Owner-Operator of the Month — July 2012

Texas trucker's focus on maintenance keeps him on the path of success.
by Elizabeth Manning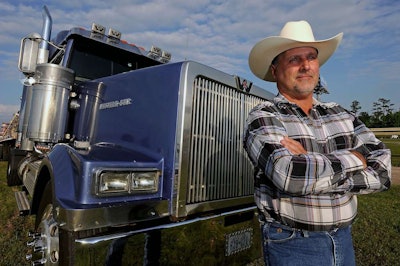 In the 20 years that he's been an owner-operator, Beaumont, Texas, native James Leatherwood has learned more than his fair share of lessons, but one stands out: "Maintenance, maintenance, maintenance," he says. "Know your truck and keep a close eye on it."
In 1992, Leatherwood bought his first truck, a silver 1988 Freightliner Classic with a nine-speed transmission and a 400 Cummins Big Cam. From the beginning, he took a hands-on approach to maintenance, which he says is a one-man job. "If you don't get up under the truck yourself and get to know it, you won't notice when something is wrong. Mechanics are often in a hurry just to get the job done and don't take time to pay attention to detail."
Doing your own work, he adds, you'll see the outcomes of bad driving habits clearly, "like how hard you're coming down on your brakes on a regular basis, or how your usual speed is affecting your truck."
He's been as hands-on with customizations as he is with maintenance. He added a wood floor to his first truck. On its exterior, he repainted and added lots of LEDs.
His current tractor, an '06 Western Star 4900EX, has acquired quite a few extras itself, including a microwave, a 26-inch flat-screen television and chrome mud flap hangers with LED lights with mud flaps made of horse stall mats.
Leatherwood's career in trucking began in 1985, after being laid off at a refinery where he worked in construction. "I was about 22," he says. "I had no idea what I wanted to do … but the truck driving school I talked to promised me I could get a job."
During the job search following completion of the driving course, "this one guy kept telling me to come back tomorrow," he adds. "Well, me being young, I kept coming back, even though he didn't really want to hire me."
His persistence paid off. Eventually an employee quit, and J&L Trucking's owner was in a bind to get a load delivered. Leatherwood was hired.
Afterward, Leatherwood worked with eight companies as a company driver or an owner-operator in his quest for a job providing adequate home time. In 2000, he joined Sleetwood Trucking. The company split in 2003, and he began work with the part that became Louisiana Transport Inc. His agent then was Terry Winchester, father of Leatherwood's current agent, Shane Winchester.
At LTI, he hauls steel and "a whole lot of fire hydrants" with his 2003 Transcraft trailer. Working for a percentage of revenue, Leatherwood had net earnings of $40,000 on just 88,000 miles in 2010. His wife tracks his fuel costs and other expenses.
Leatherwood "takes his time to do everything right, he never gets in altercations with customers or other drivers, he travels all 48 states, and he hauls anything you ask him to — overall, he's just a great guy," Shane Winchester says.
LTI "always has people around to talk to if you need help on a load," Leatherwood says. "I'm never gone from home that long either," a nice perk as his two kids were growing up over the last decade.
Whenever Leatherwood comes into the office, "he's always so mild-mannered and cooperative with everyone," says LTI Operations Manager Jerry Campbell. "He stays busy, his revenue is high, and he never has service issues — his reputation is nearly impeccable with LTI."
Leatherwood's arrangement with LTI gives him a lot of freedom to get home to his family in Beaumont. "I don't have a lot of off-time, but being able to have the option to go home if I need or want it — it's hard to beat."
Much of his home time is spent taking care of two horses: a paint stud, Hank, and a solid mare quarterhorse named Stormy. His love for horses even gained him a CB handle with quirky spelling: Horst Shoe.
"I seldom ride them, but they're beautiful to watch," Leatherwood says. When he does ride one, it's the paint stud. "He's not fixed and he's still as gentle as a dog."
3 tips on attitude

In addition to focusing on equipment maintenance, Leatherwood offers this advice for mental maintenance:
• "Be patient. You never know what other drivers will do."
• "Treat your customers with respect, and they will return the favor."
• Keep your cool. "I'm not very opinionated, and I think sometimes it helps me out in business because I don't have a short temper."
JAMES LEATHERWOOD
1962: Born in Anchorage, Alaska, and moved to Beaumont, Texas
1985: Began first trucking job hauling produce
1987: Married wife, Sherry
1988: Son, Tri', was born
1992: Bought first truck, a 1988 Freightliner Classic
1993: Daughter, Shyann, was born
2005: Bought 2000 Freightliner Classic
2011: Bought current truck,
2006 Western Star
James Leatherwood is a finalist for the 2012 Owner-Operator of the Year award, which is sponsored by Overdrive and the Truckload Carriers Association. The winner will be announced at TCA's annual convention, March 3-6, 2013, in Las Vegas.