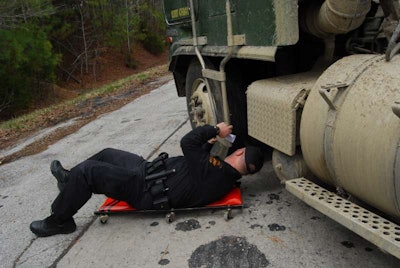 Talk about timing. Two days following a House Small Business Committee hearing into whether or not the Compliance, Safety, Accountability program was driving small business truckers off the road last Wednesday — which I wrote about here, detailing one particularly contentious moment relative to EOBRs and sharing the full hearing video — the Owner-Operator Independent Drivers Association announced details of a lawsuit that aims its arrows directly into the heart of CSA and the related Pre-Employment Screening Program.
Owner-operator reactions to the suit, which asks FMCSA to remove a broad range of driver-related violation data due to lack of due process and an inadequate dispute resolution regime, were immediate. "Sure glad to hear this," wrote Overdrive reader Tim Mizell on our Facebook page. "Thank God."
"Whatever information they are able to obtain about us, we should be able to obtain about them," wrote James Jacob, taking things a step further.
The kinds of problems OOIDA's suit tracks in are well-known, and we've covered them time and again here: Working in the DataQs system FMCSA has set up for correcting information in the Motor Carrier Management and Information System that underpins CSA and PSP is difficult for drivers, to say the least — often, when a dispute is filed in the system, the violation simply goes back for review to the jurisdiction that issued it, often right to the officer that wrote it, allowing said officer de facto judge and jury powers as regards the MCMIS.
Chuck Guintard noted in responding to news of the suit that he'd experienced this dynamic firsthand: A "judge says you're not guilty but the trooper says you are, so it stays [in MCMIS]. It goes against our constitution, I believe."
OOIDA's suit names three plaintiffs who all have been through similar processes, having challenged citations in court and then, when with OOIDA's assistance they attempted to have the citations removed from the federal database, were met with resistance in the DataQs process. Releasing inaccurate information to prospective employers, as FMCSA does via the PSP program, OOIDA alleges, violates both the Fair Credit Reporting Act and the Privacy Act. The suit asks regulators to remove the following information from the MCMIS database:
Identifying alleged violations when there has been no judicial determination of drivers' guilt under state law.
Involving alleged violations where a court has dismissed the case or found the driver not guilty.
Inspection reports other than commercial motor vehicle accident reports concerning safety violations where the DOT Secretary has not determined the violation constitutes a "serious driver-related violation" under federal code.
Doing so would be a big hit to the CSA program's supposed "robustness," given that it is based on violation data collected at roadside, thus not taking into account judicidal review. FMCSA continues to refine the system, but problems with these procedures continue, and elemental unfairness in some instances is still the rule of the day.
Anyone have any success using DataQs directly? These problems? Tell us about it in the comments here.
Here's a link to the full text of OOIDA's complaint, filed last week in U.S. District Court in D.C.