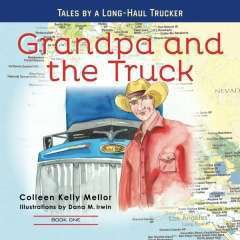 As promised back last December by Colleen Kelly Mellor, the first in Mellor's series of children's books drawn from bedtime stories she told her grandson, and based on her husband's time as a household-goods owner-operator, is now out. Book 1 of the "Grandpa and the Truck" series contains two stories of life on the long haul, and Book 2, Mellor says, should follow later in the summer.
Great to see a story left up in the air come to fruition. When I corresponded with Mellor following her salute to independent truckers last December, she noted she was looking for the right illustrator before releasing the Grandpa series. She seems to have found that illustrator in Asheville, N.C.-based artist Dana Irwin, who crafted earthy, full-color illustrations to bring the stories to life. Book 1 tells tales of two night runs, demonstrating in suspenseful fashion "why one should never walk into unfamiliar territory, alone, at night."
They're more than just bedtime stories, though. Mellor (pictured) notes the educational dynamic the books bring to the table:
Geography — from the unique perch of a cross-country trucker (in this way, kids learn other-than-GPS knowledge of our great country).
Historical events (like the Woodstock Music Festival) as seen by this trucker.
Nature's fury in the form of ice-slicked roads, blizzards, and hurricanes.
Important life lessons like "Never blindly follow another," "Math skills are necessary in ALL jobs," "Girls can do anything boys can do."
The value in life of acquired skills and practical knowledge.
The unique bond truckers enjoy–fostered by an often-solitary lifestyle.