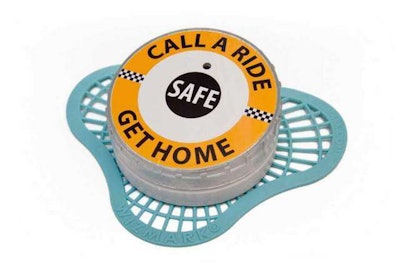 Is it fair to call the Department of Transportation's approach to hours enforcement a bit heavy-handed of late, what with FMCSA's (not to mention Congress') pursuit of an EOBR mandate, flexibility-reducing hours changes and the like? Here's hoping they don't resort to the tactics some Michigan establishments, at the behest of the State Police, deployed in advance of the July 4 holiday.
According to this story by Tom Greenwood in the Detroit News, the pictured urinal cakes are the product of Maryland-based manufacturer Wizmark, which "bills itself as the only company in the world to produce "interactive" urinal cakes. Some sing and flash lights," Greenwood wrote. Here's what they say:
Listen up. That's right, I'm talking to you. Had a few drinks? Maybe a few too many?
Then do yourself and everyone else a favor: Call a sober friend or a cab. Oh, and don't forget to wash your hands.
The State Police's Office of Highway Safety Planning sent out the "Interactive Urinal Communicators" to establishments in four counties in an effort to combat drunk driving. All well and good — just cross your fingers against this specter-become-reality: a sing-song voice coming up from below at a truck stop near you, asking if you're getting close to the 11th hour.