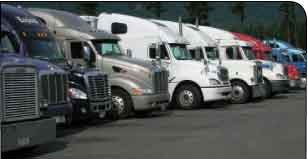 Following the cheers that went up around the trucking community for the "Jason's Law" truck parking legislation's inclusion in the MAP-21 highway bill in June, owner-operators like Overdrive reader William McKelvie put a quick lid on the possibility of any resulting driver complacency relative to the parking problem. "While everyone has jumped on the proverbial happy happy joy joy bandwagon about Jason's law passing, we continue to have no answer as to the actual dollar amounts set aside by the federal government for this law," McKelvie wrote in a Facebook post to the "Rights for truck drivers" group.
He's correct on that score – the highway bill, comprehensive national package of transportation priorities that it is, doesn't note a particular amount of investment, in line with lawmakers' desire to avoid charges of earmarking that plagued the last, pet-project-laden reauthorization bill.
Others weren't all negative about the lack of a specific amount, however. Florida-based fuel hauler Allen Smith, also the proprietor behind the AsktheTrucker.com blog and his Truth About Trucking organization, saw it as impetus for further action. "We need to be calling our Senators and Reps in those states that we know are suffering from lack of parking," Smith wrote, as the new law puts truck parking on their priority lists for investment dollars.
"If not," he added, "guess what [the money] will be used for."
Bike paths are nice and all, but given the extent of the truck parking problem around urban areas and elsewhere, if you'd rather states put money into infrastructure you need, Smith suggests, pick up the phone and dial.
For Senators' phones, visit this page (listed alphabetically by last name).
For Reps, go here (also listed alphabetically, but also by state and district).
And keep up the conversation — feel free use the comments here or on our Facebook page to communicate with other readers.What do have to say about next steps for addressing parking shortages?