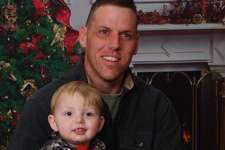 In all the hubbub over the mandate for electronic onboard recorders included in the highway-bill language, it's perhaps been easy to overlook some of better results for truckers and advocates, chief among them other language in the bill that, if it ultimately passes (as expected), brings to fruition nearly four years' worth of advocacy that began with the work of individual drivers honoring the memory of one of their own, Jason Rivenburg (pictured).
Jason's Law is in the highway bill.
Here's a pdf of the tentative text of the bill I received yesterday, fyi.
Subtitle D — Highway Safety, Section 1401, is headed "Jason's Law" and opens up money to go to the expansion of truck-parking facilities on the roadways, likewise mandating study of areas where truck parking shortages are present.
Following find a chronology of past Channel 19 and Overdrive coverage of the issue, starting with an item I wrote upon hearing of Jason Rivenburg's death back in March of 2009. (And a note here for regular Channel 19 readers: Though posts will continue to the blog throughout the week, I will be physically out of the office on R&R through July 8, in case you're having trouble getting to me.)
THE JASON'S LAW STORY:
Trucker's tragic death highlights parking need
Truck Parking (feature in June 2009 Overdrive)
Virginia rest area closures hit the mainstream
Jason's Law goes to GATS
Meet TruckerDesiree
Congress encouraged to pass Jason's Law
'A door just opened': Jason's Law gains steam
Sentencings in Jason Rivenburg murder
Stand-up treadmill desk begs question…; cargo theft connection to Jason's Law?
Jason's Law re-introduced
Unity diaries: Jason's Law lives
Jason's Law call-in set for June 23, 2011
'Jason's Law' part of transportation bill
Parking Solutions (feature in January 2012 Overdrive)
Senate OKs transportation bill
2012 highway bill highlight reel