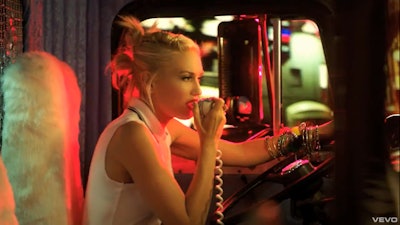 It's been 10 years since the band No Doubt's last record, so what better way to usher in their return with the "Settle Down" track than by putting bandmates Gwen Stefani, bassist Tony Kanal, drummer Adrian Young and guitarist Tom Dumont behind the steering wheels (not to mention on top of) of big rigs for the video. Directed and produced by longtime No Doubt collaborator Sophie Muller, notes this piece in Rolling Stone, the vid is meant to depict the band as "truck drivers as they steer their own highly stylized rigs to a celebratory reunion party."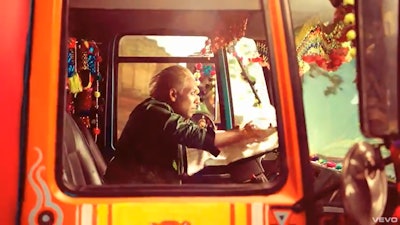 Kanal, in a nod to his Indian heritage, pilots a Southeast Asia-style "jingle truck," while Young "has his kit fastened to the top of what Muller describes as a neon Transformer," wrote Rolling Stone's Joe Tacopino. "Overflowing with speakers is the Jamaican-flavored rig of guitarist Tom Dumont. And Gwen Stefani drives a 'proper, old-fashioned Seventies truck' that the band lifted straight from the 1977 Burt Reynolds comedy Smokey and the Bandit."
The last truck, by the looks of it a Pete, is however decked out with a garish checkerboard paint and/or vinyl job — and Stefani makes the critical error of putting on lipstick utilizing the side-view mirror while rolling.
Don't worry too much, though — from the looks of the "Making of the video" vid, posted below, none of the bandmembers actually took one of these rigs out on the road. Pretty big production, though.
The final product is embedded below. True to form for the crew who wrote the somewhat annoyingly catchy "Just a Girl" back when, it's a very infectious reggae-inflected pop tune. Enjoy.
[youtube Pb_zZ3xItPI nolink]
[youtube jfMrQxvMWsI nolink]