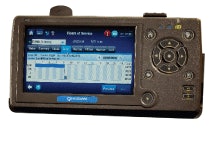 The Federal Motor Carrier Safety Administration has highlighted on its website a list of frequently asked questions regarding electronic onboard recorders following President Obama's signing of highway legislation that mandates electronic logging devices.
The list responds to questions regarding the safety benefits of EOBRs, FMCSA's pending EOBR rulemaking, the economic impact of such a regulation on the industry, the cost of an EOBR device and technical specifications. To view the list, go to http://fmcsa.dot.gov/about/other/faq/faqs.aspx and click on the "Search" bar and drag down to "Electronic On-board Recorder (EOBR) FAQ."
Obama on July 6 signed the highway reauthorization bill cleared by a joint committee the previous week. HR 4348, which maintains current transportation spending levels at $101.3 billion for the next 27 months, includes a requirement for electronic logging devices, a study of truck crashworthiness, the creation of a drug-and-alcohol testing clearinghouse and notification system for employers of driver safety violations, improved driver licensing standards and tougher requirements for new truck drivers and companies.
FMCSA on Feb. 10 announced its intent to move forward with its rulemaking regarding EOBRs and hours-of-service supporting documents by preparing a supplemental notice of proposed rulemaking. FMCSA also announced via the Federal Register several steps to augment its efforts to obtain comprehensive data to support its SNPRM, including:
• Listening sessions on the issue of driver harassment;
• Tasking the Motor Carrier Safety Advisory Committee to assist in developing material to support the rulemaking, including technical specifications for EOBRs and their potential to be used to harass drivers; and
• Conducting research by surveying drivers, carriers and vendors regarding harassment issues.
The U.S. Court of Appeals for the Seventh Circuit in August 2011 vacated FMCSA's original EOBR rule following a challenge by the Owner-Operator Independent Drivers Association. OOIDA had argued that the final rule had not met federal regulations stipulating FMCSA ensure the devices not be used to harass vehicle operators.