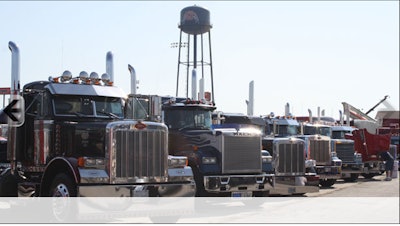 The Iowa 80 Truckstop has announced its annual Walcott Truckers Jamboree — held July 12 and 13 — attracted 31,000 attendees and featured 175 exhibits, an 80-contestant Super Truck beauty contest and more than 200 antique trucks.
Country singers Randy Houser and James Wesley also performed, and a fireworks show was held Friday night. Next year's show is scheduled for July 11-13.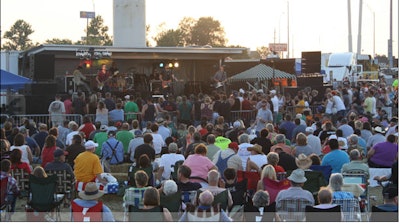 Here's the list of winners from the Super Truck contest.
WT: Cabover

1st Gene Petrosky, Iona, ID – 1983 blue & white K100
2nd Jeff Wasko, Baroea, MI – 1975 red & gray Freightliner
3rd Lavern Cross, Middlebury, IN – 1980 maroon & white Peterbilt
WT: Specialty
1st Ernie Vole, Vernon Hills, IL – 2007 Peterbilt wrecker – Showtime
2nd Rebecca Aurenz, Palos Park, IL – 2000 Peterbilt 378 – Princess Rebecca
3rd Scott Pool, Milan, IL – 2006 Kenworth T600 – welding truck
WT: 2012-2009 Bobtail Conventional
1st Paul Saline, Rio, IL – 2009 Kenworth – Satisfaction
2nd Rollie Kruse, Toronto, SD – 2009 red Freightliner Cascadia
3rd Cliff Doxtator, Landis, SK, Canada – 2012 black Peterbilt 389
WT: 2008-2002 Bobtail Conventional
1st Glen Page, Camden, MI – 2007 black Peterbilt – Purpose Drive
2nd Larry Pruitt, St. Clair, MO – 2007 Mack – Bustin' Out
3rd Tanner Timblin, West Bend, WI – 2007 Peterbilt – Rookie
WT: 2001-1995 Bobtail Conventional
1st Travis Buhr, Adams, NE – lime green 2001 Peterbilt
2nd Chad Robertson, Clarence, MO – 1996 blue & silver Kenworth W900L
3rd Brent Cross, Goshen, IN – 2000 tan Kenworth
WT: 1994-1987 Bobtail Conventional
1st Ron Brubaker – Sigourney, IA – 1993 Peterbilt – One of a Kind
2nd Troy Huddleston – Yale, IL – 1991 Freightliner – Flirtin' With Disaster
3rd Virgil Nolt – Ephrata, PA – 1987 blue Peterbilt 359
WT: 1986 & Older Bobtail Conventional
1st Shawn Helt, Pleasant Hill, MO – 1965 Peterbilt – Helt Up
2nd Dan Brubaker, Sigourney, IA – 1986 Peterbilt – Hakuna Matata
3rd Mike Harbison, Morning Sun, IA – 1986 Mack – Super Mutt

WT: 2012-2007 Combination
1st Buck Johnson, Lewisport, KY – 2009 burgundy Peterbilt & 1995 Mississippi tank
2nd Andy Kemp, Dubuque, IA – 2009 Peterbilt & 2012 Mac trailer
3rd Steven Brubaker, Bernville, PA – 2013 burnt orange Peterbilt & Eby trailer
WT: 2006-1998 Combination
1st Josh Ihlenfeld, Owatonna, MN – 2005 Kenworth & 2002 Wabash – Johnny's Cash
2nd Shawn Cielke, Haugan, MT – 2006 Kenworth & 2006 Wabash – The Lead Sled
3rd TJ Timblin, West Bend, WI – 2005 Kenworth & 2010 Chaperel – Low Life
WT: 1997 & older Combination
1st Paul Rissler, California, MO – 1996 Peterbilt & 2008 Great Dane – Risslerbilt
2nd Conrad Shada, Anamosa, IA – 1987 purple & black Pete Cabover & 2013 Chamberlin
3rd Arnold Frankie, Jr, Brownsville, PA – 1996 Kenworth & 2013 Mac – Smooth Move
Show Class
WINNER: Leonard Eads, Lathrop, MO – 1998 Peterbilt & 2000 Savannah
Custom Paint (Bobtail)
1st Tanner Timblin, West Bend, WI – 2007 Peterbilt – Rookie
2nd Shawn Helt, Pleasant Hill, MO – 1965 Peterbilt – Helt Up
3rd Dan Brubaker, Sigourney, IA – 1986 Peterbilt – Hakuna Matata
Custom Paint (TT Combination)
1st Paul Rissler, California, MO – 1996 Peterbilt & 2008 Great Dane – Risslerbilt
2nd Russ Harris, Mason City, IL – 2006 white & purple Peterbilt & 2005 Brenner trailer
3rd Shawn Swanson, Prophetstown, IL – 2002 Kenworth & 2010 Reitenour – Pure Attitude
Custom Paint – Murals (Bobtail)
1st Larry Pruitt, St. Clair, MO – 2007 Mack – Bustin' Out
2nd Ernie Vole, Vernon Hills, IL – 2007 Peterbilt wrecker – Showtime
3rd Scott Pool, Milan, IL – 2006 Kenworth T600 – welding truck
Custom Paint – Murals (TT Combination)
WINNER: Wesley Wulff, Gann Valley, SD – 2003 Peterbilt & 2010 Wilson – Hot Iron
Custom Graphics (Bobtail)
1st Ivan Yoder, Shipshewana, IN – 1999 burnt orange Peterbilt – Empty Pockets
2nd Rod Jaeger, Worthington, IA – 2007 red Peterbilt 379
3rd Denzil Gage, Omaha, NE – 2013 red & white Kenworth T660
Custom Graphics (TT Combo)
1st Bill Duckworth, Salpulpa, OK – 2012 greay & black Freightliner & 2012 Utility trailer
2nd Josh Ihlenfeld, Owatonna, MN – 2005 Kenworth & 2002 Wabash – Johnny's Cash
3rd Buck Johnson, Lewisport, KY – 2009 burgundy Peterbilt & 1995 Mississippi tank
Polish & Detail – Bobtail
1st Paul Saline, Rio, IL – 2009 Kenworth – Satisfaction
2nd Glen Page, Camden, MI – 2007 black Peterbilt 379 – Purpose Driven
3rd Shawn Helt, Pleasant Hill, MO – 1965 Peterbilt – Helt Up
Polish & Detail – TT Combination
1st Shawn Swanson, Prophetstown, IL – 2002 Kenworth & 2010 Reitenour – Pure Attitude
2nd Conrad Shada, Anamosa, IA – 1987 purple & black Pete Cabover & 2013 Chamberlin
3rd Paul Marcotte, Momence, IL – 1999 Peterbilt & 1976 Heil – Barely Legal
Interior – OEM Sleeper
1st Shawn Cielke, Haugan, MT – 2006 Kenworth & 2006 Wabash – The Lead Sled
2nd Shawn Swanson, Prophetstown, IL – 2002 Kenworth & 2010 Reitenour – Pure Attitude
3rd John Hildreth, Guthrie, OK – 2007 Freightliner – Ol' Red

Interior – OEM Conversion Sleeper
1st Glen Page, Camden, MI – 2007 black Peterbilt 379 – Purpose Driven
2nd Michael Van Ness, Danville, IA – 2013 blue Peterbilt
3rd Hank Good, Monticello, NY – 2007 Kenworth – Hank's Highway Hilton 2
Interior – Custom Sleeper
1st Arlyn Workman, Morrison, IL – 1986 red Peterbilt
2nd Bill Duckworth, Salpulpa, OK – 2012 greay & black Freightliner
3rd Travis Buhr, Adams, NE – 2001 lime green Peterbilt – Double A
Lights at Night – Bobtail
1st JR Schleuger, Britt, IA – 2003 Kenworth – Blue Baron
2nd Tim Stevenson, North Mankato, MN – 1987 black Peterbilt
3rd Travis Buhr, Adams, NE – 2001 lime green Peterbilt – Double A
Lights at Night – Combination
1st TJ Timblin, West Bend, WI – 2005 Kenworth & 2010 Chaperel – Low Life
2nd Kevin Fisher, Mucado, WI – 1997 mocha & green Peterbilt & 2007 East trailer
3rd Shawn Swanson, Prophetstown, IL – 2002 Kenworth & 2010 Reitenour – Pure Attitude
Lights at Night – Specialty
1st Rebecca Aurenz, Palos Park, IL – 2000 Peterbilt 378 – Princess Rebecca
2nd Ernie Vole, Vernon Hills, IL – 2007 Peterbilt wrecker – Showtime
3rd Thomas Placer, Reidsville, NC – 2008 white Ford F-650
Best Overall Theme
WINNER: Wesley Wulff, Gann Valley, SD – 2003 Peterbilt & 2010 Wilson – Hot Iron
Trucker's Choice
WINNER: Shawn Cielke, Haugan, MT – 2006 Kenworth & 2006 Wabash – The Lead Sled