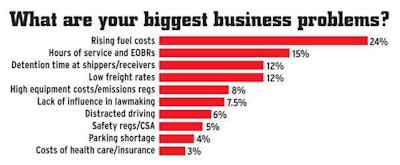 Using a survey and our social media channels earlier in the year, we quizzed readers about what they saw as the No. 1 problem for owner-operators.
Stay tuned to Overdrive this month for examinations of the top five, also featured in our August magazine. (Also, over on the Channel 19 blog, Overdrive Senior Editor Todd Dills is sharing further reporting from his expansive interviews for the package.)
Following find an examination of and some partial solutions to your named No. 1 problem, fuel prices, from owner-operators, fleet representatives and others.
1. Fuel prices
Diesel prices first topped $4 a gallon in 2008, concurrent with that year's dramatic freight downturn. Some owner-operators were simply "costed" right out of business. Many of those had been leased to carriers without fuel surcharge programs or whose rates weren't adjusted often enough to compensate for the dramatic increases.
While fuel surcharge programs are more entrenched in today's industry, owner-operators still rank fuel pricing as their number one problem. Here are steps to help manage your fuel costs: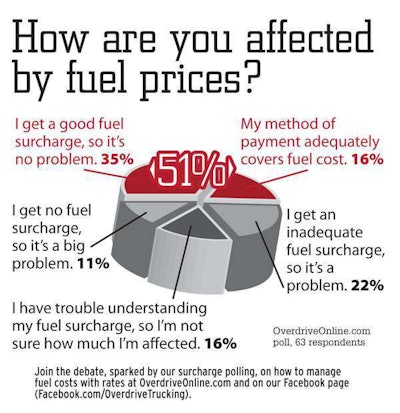 Ensure that you're getting a fair fuel surcharge.
Avoid brokers and carriers whose rates don't adequately compensate for fuel. If you're independent and lack a fair surcharge, explain the situation to your shippers and negotiate a program. Fuel surcharges should increase or decrease proportionally with diesel prices, either on a cents-per-mile basis or as a percentage of the rate the customer pays the carrier for the load.
Six-truck small fleet owner and part-operator Tom Blake survived the 2008 crisis by sitting down with a few select shippers near the end of 2008 and renegotiating his contracts to include more frequently updated fuel surcharges.
"It's based on the weekly Department of Energy average," he says, available via EIA.gov and published at OverdriveOnline.com as well. His fleet's average fuel mileage is 5.5 mpg.
Blake hauls container freight around the Kansas City, Mo., region. He offered customers different forms of the surcharge for local and longer regional hauls, as there's a significant fuel-mileage difference.
"All I was doing was trying to keep my customers happy," Blake says, recalling the tough 2007-08 period. "When I started looking at the books, I was just like, 'Oh man, I'm killing myself.' If you're not paying attention to what things are costing you, you're going to leave a lot of money on the table."
Rate adjustment or surcharge?
If you're independent, you have a choice in how you structure your rates to account for fluctuations in fuel prices, possibly diverging from the fuel surcharge. Many question the relevancy of that model, arguing for more dynamic rate structuring that in real time accounts for the cost of fuel.Using tools like Overdrive publisher Randall-Reilly Business Media's FuelSurchargeIndex.org to get daily lane averages for fuel prices, dynamic rate structuring is much easier today.And for a leased owner-operator not in the position to be negotiating such contracts, it makes no difference whether a $500 load pays the flat $500 or $350 plus a $150 surcharge. "Don't get hung up on the surcharge," says owner-operator Jeff Clark. "Maximize your net income."If you're leased, fuel surcharges can be a profit center and encourage fuel efficiency. If you're beating your carrier's average fuel mileage – the base mpg that is used to calculate the fuel surcharge in contracts – then the more miles you run, the more you profit on fuel.
Consider alternative fuel equipment.
Smart owner-operators should be mindful of developments with natural gas engines. The technology is proven to be efficient in many urban and regional haul applications and is becoming increasingly viable for over-the-road. All truck makers have or are making available natural gas-powered versions of their trucks, and the fueling infrastructure is rapidly expanding, says Mike Bethea, director of Schneider National's independent contractor fleet.
"We have some units ourselves that we've put on," he says. "They're running all over, and have performed well with lower emissions." Natural gas' diesel-gallon equivalent has been running about a third less costly, making new fleet investments in the equipment to take advantage of it attractive.

Know your costs and boost efficiency.
Cost analysis is crucial to establishing or evaluating the efficacy of any fuel-surcharge or rate-adjustment program. Know what it takes per mile of revenue to meet your fixed costs, and track your fuel mileage, tire-life cycle and maintenance expenditures over time to determine variable cost per mile. "Make sure revenue lines up with all costs, make a good business plan" and update it frequently, Bethea says.
Spec the most appropriate truck for your operation, too, he adds, to get the best fuel mileage.
With the 2010 diesel engine technology making its way into the market, some owner-operators "who've managed to get used equipment and operate under those old emissions standards" will increasingly find themselves behind the ball on efficiency, Bethea says. "Six mpg is no longer the standard. Folks are getting 8 mpg with the right kind of load with the new specs. Keep up with the technology and make the right decisions to adapt to change."

Find a good partner.
Discount fuel programs are available to those running under their own authority via card programs like Wright Express' OTR Pro Card (OTRProCard.com) and the long-running Trucker's Advantage card (TruckersAdvantage.com).
Cost-plus fuel buying is available to National Association of Small Trucking Companies (NASTC.com) members as well as owner-operators leased to fleets with such programs. Schneider's Bethea and Landstar Vice President and Chief Safety and Operations Officer Joe Beacom both report such programs being available to owner-operators. In Landstar's program, which also includes retail-minus discount pricing, "in 2011, discounts off street price totaled nearly $16 million, all of which was passed through to the Landstar owner-operator," Beacom says.
For more, check out the recent Overdrive webinar with Kevin Rutherford on ""Fuel management: Optimization, taxes and surcharges."