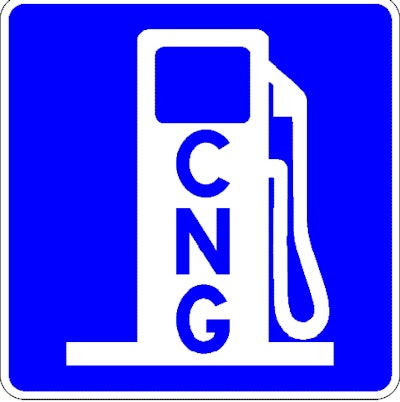 Trillium CNG and AMP Americas have announced a joint venture, AMP Trillium, focused on building a network of CNG stations across the US.
Initially, AMP Trillium will construct stations along the I-65 and I-75 trucking corridors and major routes in Texas, with the first station breaking ground by fall 2012. The stations will be open to the public, though the primary customers will likely be heavy-duty and long-haul trucking fleets.
The new stations will feature fast-fill capabilities and redundant equipment providing increased fill speed and reduced downtime while delivering exceptional reliability backed by our 24/7 on call service-team. The stations will also accept fleet cards and major credit cards and offer special fuel-pricing programs to encourage fleets to take advantage of the economic and environmental benefits of CNG. To further accentuate the project's sustainability benefits, AMP Trillium plans to use renewable CNG whenever possible. Renewable CNG is the chemical equivalent of fossil-based natural gas and is obtained from biomass, often food or animal waste.
"Trillium CNG is excited to join with AMP and support the leaders of the dairy industry on energy and sustainability issues," says Charles Koontz, VP Commercial Services for Trillium CNG.
AMP Americas currently owns two CNG fueling stations in Indiana and, in partnership with Fair Oaks Farms, manages a fleet of 42 CNG milk-transport trucks. By fall, these trucks will run entirely on renewable CNG made from manure from the dairy's cows in a process called anaerobic digestion.
"We're very excited by what this joint venture means to AMP and our industry. It allows us to complete more renewable CNG projects alongside a strong financial and operating partner," said Nate Laurell, AMP's founder and CEO. "Oil, being globally priced, is expensive, but natural gas is not only abundant in the US, it's also cleaner, producing 20 to 30 percent fewer greenhouse emissions than diesel fuel."