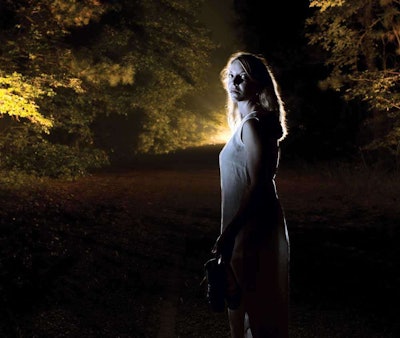 Editor's note: Originally published in Truckers News, October 2008.

Maybe you've seen something you can't explain or wondered why the hair on the back of your neck stands up every time you drive down a certain stretch of highway. Or maybe ghost hunting comes to you just as naturally as driving a truck. Ghost stories have been passed down for years and with them the curiosity of both believers and nonbelievers. Their essence is made known in creepy, back-road cemeteries and abandoned buildings … but highways?
There are just as many stories about highway haunts as there are tales of cemeteries and ghosts. And the number of fatal accidents increasing on highways causes some to wonder what is still there long after the deceased have been buried.
Brian Patrick, from Chealsea, Mich., and a heavy hauler with Landstar, is accustomed to his wife Marie's requests to slow down their 2007 Peterbilt 379 so she can snap a few pictures of the open road. Equipped with her digital camera, Marie snaps away in hopes of getting the perfect picture of whatever locale they happen to be passing. To her surprise, the photos sometimes tell much more of a story than she intends.
Haunting Marie's prized collection of photos are various orbs (spheres of light or energy thought to be given off by spirits), inexplicable mist, eerie images of Civil War soldiers lurking within the Gettysburg National Military Park and many other phenomena. Marie calls herself one of the "lucky, unlucky people" who can sense and see images of ghosts. She is currently writing a book based on what she's seen.
Marie Patrick became interested in the paranormal at the age of 18, but it wasn't until her 40s that she was finally able to afford the necessary ghost-hunting equipment. "You always have a small amount of fear, and you pray a lot and question your sanity," Patrick says of ghost hunting. "It takes a lot of money, effort and patience."
But Patrick's encounters aren't as unusual as you might think. For years, truckers and nontruckers have been sharing stories about strange occurrences on America's roadways. Following are a few such stories.
Spook light
Interstate 44 and other smaller roads connect the areas of Joplin, Mo., Columbus, Kan. and Miami, Okla. Known as the Spooksville Triangle, this is an area where "spook lights" — unexplained red and yellow lights that appear sporadically — have been reported for more than 100 years.
One of the most famous spook lights in America is the Hornet Spook Light on State Line Road (or Missouri state highway N4703), which connects Missouri, Oklahoma and Kansas. The light has been seen along a four-mile open patch of countryside along Gum Road in Missouri since 1866. The Army Corps of Engineers has investigated the phenomenon and concluded that it's a "mysterious light of unknown origin."
"The light spins down the center of this gravel road at great speed," says Troy Taylor, president of the American Ghost Hunters Society, "rises up high, bobs and weaves to the right and left. It appears to be a large lantern, but there is never anyone carrying it." The light appears only at night and is best seen between 10 p.m. and midnight.
Many theories attempt to explain the Hornet light. One legend says the light is the spirit of two young Quapaw Indians who died in the area years ago. Another says the light is the spirit of an Osage Indian chief who was been beheaded on the site of the present day road and is using a torch – the spook light – to find his missing head.
As for areas around Joplin, Patrick says she can only describe them as spooky. "There are areas in Joplin that not even the locals will go into without guns and guards," Patrick says. "I've never felt comfortable walking around Joplin or even sleeping in the Joplin truckstop."
The Miami Spook Light in Miami, Okla., also has seen its share of explanations since the 1800s. The most common story is that the light is the lantern of a woman searching for her missing daughter. "The woman sent her daughter to look for some stray cows in a heavy fog," Troy Taylor says. "After several hours, the girl didn't return home. Her mother went out each night until she went insane with grief looking for her daughter."
The Old Brewery Hill Spook Light in Le Sueur, Minn., harbors another eerie tale. Farmers and residents claim to have seen a red light resembling a lantern bobbing along the Omaha Railroad tracks south of Le Sueur. In 1875, George Kienzli started the area's first brewery, which featured two cellars where beer was stored in wooden casks while it aged. "It was believed that a man later lived in one of the brewery caves, and people claimed to see him leave the cave, walking along and carrying a red lantern," Taylor says. The ghost of the old hermit is said to still haunt the stretch of tracks near Old Brewery Hill, waving his red lantern as he walks along and vanishing if anyone gets too close.
Patrick believes spirit lights like "spook lights" exist and notes the consistency these lights have in specific areas. "They tend to come out at the same time and act the same ways each night," she says. "Spirit lights act independently and have a place memory of the area they haunt."
Resurrection Mary
Though Patrick has never personally encountered a vanishing hitchhiker, she doesn't doubt their existence. "The energy of an entity never leaves an area," she says. "You just have to wait for the right time to see it, like after bad weather."
While tales of vanishing hitchhikers come and go like their stories, Justice, Ill., in southwest suburban Chicago, is home to the famous — and enduring — tale of Resurrection Mary. The ghost is said to be that of Mary Bregovy, a young Polish girl who died March 10, 1934, in a car accident while coming home from a night of dancing at the O. Henry Ballroom (now known as the Willowbrook) down Archer Ave. from Justice in Willow Springs. Bregovy was buried along Archer in Justice at Resurrection Cemetery, one of the Chicago area's largest cemeteries.
A few months after Bregovy died, reports of her reappearance began making their way around town. Stories say Mary often is seen walking barefoot down Archer in a white dancing dress, holding her dancing shoes. Many people stop and offer her a ride home. "As people drive her home, she asks them to stop in front of the cemetery gates on Archer," says Brad Steiger, author of "Real Ghosts, Restless Spirits and Haunted Places". "She gets out of the car, runs across the road and dematerializes at the gate."
Chicago professional ghost hunter Richard Crowe says it wouldn't be uncommon for truckers to encounter Mary's spirit. "Interstate 294 runs over State Highway 171, or Archer Avenue," Crowe says. "If any trucker were to take that road or find themselves lost on it, there's a chance they might encounter Mary."
"As people drive her home, she asks them to stop in front of the cemetery gates on Archer Avenue. She gets out of the car, runs across the road and dematerializes at the gate." —Brad Steiger, author, "Real Ghosts, Restless Spirits and Haunted Places."
Crowe has conducted numerous interviews with people who claim to have seen Resurrection Mary. One classic encounter, Crowe recalls, was in December 1977 when a sergeant was called to Resurrection Cemetery because a young blonde girl was locked inside. "When the sergeant got there, he didn't see anyone," Crowe says. "As he was leaving, he noticed there were black handprints burned into the iron bars, and both bars were bent apart." The entire gate has since been repainted, but it remains a popular tourist attraction, Crowe says.
A typical encounter of Mary is like the one that happened to Shawn and Gerry Late in May 1978. "The couple was driving down Archer Avenue after 10 p.m. and spotted a young blonde woman in a white gown running into the road," Crowe says. "To avoid hitting her, they slammed on the brakes only to watch her disappear into the cemetery."
Weather conditions also seem to play a role in the appearance of Resurrection Mary. Nights during and after lightning storms, rain and snow are some of the best times to look for Mary's ghost. If you do pick Mary up, one way to ensure she's the real thing is that her clothing and hair will be untouched by the current weather conditions. "It might be raining cats and dogs, but Mary will be completely dry," Crowe says.
Highway 666
Best known as "The Devil's Highway," U.S. Route 491 has had its share of odd occurrences. Before becoming U.S. 491 in 2003, the north-south highway was known as Route 666. The road connects the Four Corners region of the United States, beginning in Gallup, N.M., at a junction with I-40 and continuing through Shiprock, New Mexico, and parts of Colorado before ending in the farming town of Monticello, Utah, at the base of the Abajo Mountains. According to the New Mexico Department of Transportation, between 2000 and 2001 there were 489 accidents and 13 fatalities along U.S. 666 between mile markers 0 and 69. In 2007, after the highway had been renamed, the number of accidents dropped to 20 and fatalities to one.
The original route number struck fear in the hearts of travelers because the number 666 is by some accounts associated with the biblical depiction of the Antichrist. In a report by the U.S. Department of Transportation, one resolution stated that "people refuse to travel the road, not because of the issue of safety, but because of the fear that the devil controls events along United States Route 666."
Brad Steiger says numerous eyewitness accounts recall a black, 1930s vintage Pierce-Arrow roadster running cars, trucks and motorcycles off the road, and the apparition has been credited with at least five deaths. Stories of hellhounds howling and materializing around travelers' vehicles also have been documented. Steiger says Avery Teicher of Phoenix spent 10 years compiling reports of the Pierce-Arrow and the hellhounds "According to Dr. Teicher, two members of a biker gang had both of their arms chewed off by the fiendish ghost dogs, and a third biker had 90 percent of his face eaten away," Steiger says.
Linda Dunning, author of "Lost Landscapes: Utah's Ghosts, Mysterious Creatures and Aliens," tells of her husband's account of traveling down this road. Her husband was driving toward Gallup, N.M.,on his way to Texas. Having not seen a car for miles, the sudden appearance of a truck startled him. "He saw a truck that looked like it was on fire heading straight for him, right down the middle of the highway," she says. "The truck was going so fast that sparks were flying up off the wheels and flames from the smokestack. He pulled over and got out of his car and walked way off the road into the desert till the truck passed him going what he estimated was 130 miles an hour."
Marie Patrick says when people see or think they see something like this their first instinct is to slow down. "Don't slow down," she says. "Use common sense. Stopping only puts you in danger."
Something to believe
Danny and Freda Cooper of Birmingham, Ala., have never seen any ghosts or spirits while on the road, but they believe such things exist. "It's something I've always wanted to see," says Danny, a trucker for a temp agency. "I've seen stuff like spirits in our home, but in 15 years of trucking, never anything on the road."
But some drivers are more skeptical. Dan Dye of Jamestown, N.Y., doesn't believe in hauntings and says they are just stories that come from accidents that could be prevented. "If people would just pay attention on the road, things like this wouldn't happen," says Dye, a driver with Sitton Motor Lines.
Michael Sherrod, a trucker with Southern Refrigerated Transport, says he doesn't believe in ghosts, really, but will entertain the reality of spirits. "The term ghost just sounds bad," he says. "Spirits seem like they are more willing to help you or are nicer." When truckers tell stories of strange things happening on the highway, Sherrod credits it to being "brain tired."
"It's just a tired and sleepy imagination," he says. "I've often thought I've seen trucks that weren't there and heard voices, but it's not real. I'm just tired."
There is one incident, however, that Sherrod does credit to "something strange" taking place.
Sherrod recalls a time he and a friend were south of San Antonio, Texas. The two crossed a railroad track in their car, and on their way back over the track, Sherrod's friend pulled the car onto a flat stretch of roadway directly in front of the train tracks. His friend got out of the car, sprinkled baby powder on the back hood and bumper, then put the car in neutral.
"I asked him what he was doing and he said, 'You'll see,'" Sherrod says.
Minutes later the car began to move, picking up speed and crossing the tracks. When Sherrod got out of the car, there were about "20 to 30 handprints" in the baby powder.
Sherrod's story isn't new, and the tiny hands along Ghostly Gravity Hill have been safely transporting drivers over the tracks for years. The train track intersects Shane Road on the southeastern edge of San Antonio right off Interstate 410, exit 42. In the 1930s, a school bus full of children was stalled on the railroad tracks and a train smashed into the bus, killing the driver and 10 passengers. It's said the spirits of the children push cars safely across the tracks.
Speculation about the incidents swarms with various explanations. Some say the area has natural uphill elevations that cause cars to roll up and over the tracks. As for the handprints, some say they are previous handprints already on the vehicle. No matter the explanation, the results of stopping in front of the tracks remain.
Fact or fiction?
Whether you believe the stories or not, their legacies live, and with them the question of what is real and what is fiction emerges.
Marie Patrick suggests that truckers who are interested in seeing the supernatural take photos of different graveyards and creepy places they visit or pass by. "Always take three photos, and make sure the time shows up on the photos," she says. "That way you have a before, during and after picture" that is well-documented.
If these things happen or have happened to you, don't immediately blame your own mind for the seemingly impossible. Patrick says some skeptics will hold to their belief systems no matter what. "Sometimes people can't be convinced," she says. "And sometimes all it takes is one photo to prove something."
If you see something you can't explain, write down a detailed account of what you saw and where exactly you were, because you never know: another person may have had the same experience.
So the next time you are trucking down a dark, lone highway during the middle of the night, don't be surprised if you come across a car that vanishes or even an unexpected passenger that pops into the backseat just as quickly as he disappears.
A trick of the mind? You decide.