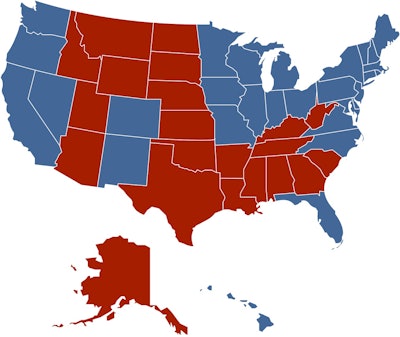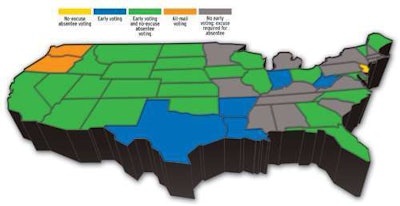 Online registration and voter-friendly laws make it easier than ever to cast your ballot when you can't be home on Election Day.
If you are under the impression that voting for your favorite candidate is too laborious of a task because you'll be on the road come Election Day, think again. Online developments and laws for residents who can't get to their local polling places have made being a part of the democratic process less intimidating than in the past in most states.
"Absentee voting is much more accessible than it was a decade ago or even five years ago," says Carl Snodgrass, associate director of Long Distance Voter, a nonprofit, nonpartisan organization. "The Internet has made it easier because of the ability to register online in many states."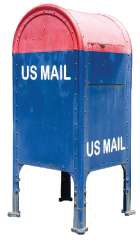 Most states have two categories of pre-election voting: absentee ballot and early voting. Absentee voting is usually done by mail, though some states allow you to deliver a ballot in person at a designated location.
Early voting takes place at an election office or satellite polling location. It's sometimes referred to as early in-person voting, in-person absentee voting, one-stop voting or advance voting.
The District of Columbia and 32 states offer "no excuse" provisions for pre-election voting, while other states require a valid excuse. Oregon and Washington state offer all-mail ballot voting for elections.
If you are not online, check with your local election office about pre-election voting requirements, including whether you need some form of identification, for the county you live in. The election office may be located at your city/town hall or county courthouse. You also can call the secretary of state office in your state capital.
The future: Internet voting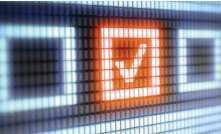 For the 2012 election, no state offers Internet voting for the general public. As technology advances and security measures improve, that may change, says Carl Snodgrass, associate director of Long Distance Voter, a nonprofit, nonpartisan organization.
Thirty-one states allow military personnel and other overseas voters to return their ballots electronically through e-mail, digital fax or by using a secure website. But a recent report, Counting Votes 2012, done by three voter interest groups, found most electronic voting systems are too vulnerable to hacking.
In a July 24 USA Today article about the report, Susannah Goodman of Common Cause's Voting Integrity Campaign, one of the report's authors, said that "Internet voting is not ready for prime time. The security environment is not what it needs to be to cast ballots over the Internet."
For example, the article notes: "When Washington, D.C., set up a pilot Internet voting program in 2010 and invited hackers to try to corrupt it, a University of Michigan team hacked the system to change votes and even play the school fight song."
The debate over security issues involving the Internet leads some watchdog groups to believe we may be decades away from electronic voting for the general population. Others see it sooner, especially with the push for easy voting methods to attract younger, more tech-savvy voters.
"Each state has its own ideas about what is enough in terms of safeguards to prevent voter fraud," Snodgrass says. "It's anybody's guess when it will become the standard, but I'd be quite surprised if at least one state hasn't switched over by 2016."
ONLINE VOTER INFO AND REGISTRATION
Free online voter registration and clickable state-by-state absentee/early voting guidelines.
Aimed specifically at attracting young voters; free online voter registration.
Users can ask specific questions about state voting regulations and key election issues; free voter registration.
Launched by the League of Women Voters Education Fund, state-by-state election information including candidate data in federal, state and local races, free voter registration.

Registering by social media
Washington became the first state to allow voter registration via Facebook. The state had planned to roll out a new app early last month. It gathers users' Facebook account profile information to start the process and redirects the data to the state's MyVote system to complete registration.