TruckingOffice, a specialist in online trucking managment software for owner-operators and small fleets, has partnered with load matching service Getloaded.com to launch the GetloadedOps accounting/management software exclusively for Getloaded members.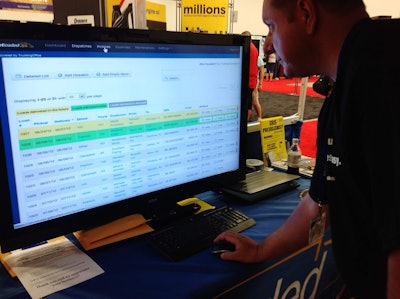 The package was demonstrated at the Getloaded booth throughout the three days of the Great American Trucking Show in Dallas, Texas. TruckingOffice founder Allen Campbell, pictured, says the partnership holds potential for future integration between the load board and the software for users — the next step for the program.
GetloadedOps is offered in three versions: Owner-operator ($16 monthly for Getloaded members, a 20 percent discount off of TruckingOffice's normal $20 price), Mid Size (3-7 trucks, $45) and Fleet (8-plus, $75). It's designed to handle the record-keeping involved in running a successful trucking business. It can manage dispatching, invoicing, driver settlement, maintenance planning and tracking and IFTA tracking and reporting.
Getloaded also announced its that its FreightCheck non-recourse factoring service is now available to Getloaded members at a 4.9 percent rate, down from 7 percent.
Find more info at ops.getloaded.com or truckingoffice.com.