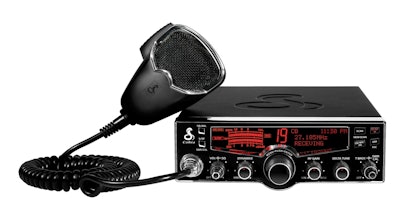 Like anyone who grew up watching Smokey & the Bandit or the B.J. and the Bear TV show (if you don't know what either one of these are, quit reading this post right now and go play with your Pokemon cards), I was under the impression that all truckers spent their day on the CB, chatting to each other to pass the time and letting one another know if there's trouble ahead. After several hours in the truck, I noticed my husband never touched his CB.
"Aren't you going to turn the CB on?"
"Only if there's a traffic jam, or I need to let someone know it's OK to get over."
I was very disappointed. I had hoped to leave the truck knowing the lingo, and being able to converse freely about "bears" and "covered wagons" and such. I kept my disappointment to myself. I figured there'd be a lot more fun stuff to do — like count the threads in the seat cover or rate windshield bug-gut explosions on a scale of one to ten. (Side note: I have been forbidden from saying "Took guts to do that!" for the rest of the trip. Already.)
Today traffic came to a halt, and after some pretty explicit language while wrestling the 33,000 pounds behind us to a stop, my husband finally turned on the CB. I fully expected to hear some pertinent information about how to get around the traffic jam, along with friendly banter about where the "bears" are hiding. Instead, some bizarre form of gibberish assaulted my ears. The words I could make out made no sense.
"Did he just say there was a flying elephant scrotum in the road? Is that even possible?"
"Babe, I can't understand what he's saying any more than you can. He's probably not even talking about the traffic."
Again I heard a string of "words" that made no sense. Let me insert here that I was raised in Georgia, and I couldn't make out anything.
"I think there's a herd of frozen walruses in the median. I'm pretty sure he said 'frozen' and 'walruses.'"
"I'm pretty sure he didn't."
About that time, the only coherent words came blasting through, loud and clear.
"That damn Obama!"
"Oh my God, babe, the President is in the median with flying elephant scrotums and frozen walruses! I'm a nurse, I have to help!"
My husband immediately engaged the child-safety locks. (Not really, but the look he gave me insinuated that's exactly what he would be doing if there were child safety locks in the truck.)
Traffic began to move, and by the time we passed the accident scene, the President, flying elephant scrotums and frozen walruses were all cleaned up. I never get to have any fun.