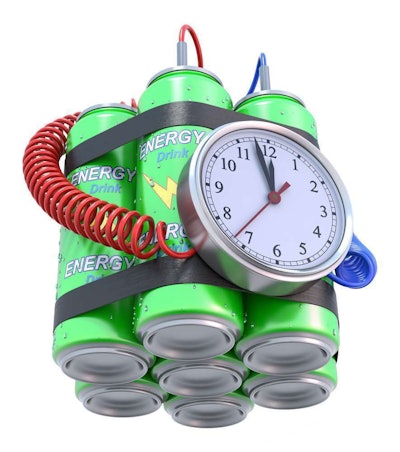 Standing against a poster of a product well-known to truckers and four-wheelers, Sen. Dick Durbin appeared on the Senate floor Nov. 15 to again request the Food and Drug Administration further investigate potential health risks of energy drinks in response to news last week that energy drinks have accounted for deaths and other serious medical problems more than a dozen times in recent years.
Flanked by an image of Monster Energy, the Illinois Democrat noted an FDA report of 18 fatalities following consumption of 5-Hour Energy or Monster Energy. After Thanksgiving, Durbin and Sen. Richard Blumenthal (D-Conn.) plan to meet with Commissioner Margaret Hamburg over what the administration considers dietary supplements.
Dietary supplements and energy drinks are commonly available in many retail stores. Truck stop chains, including Travel Centers of America, Love's Travel Stops & Country Stores and Ambest Truck Stop & Service Centers did not provide a response when asked if the companies were considering discontinuing the selling of these products.
Durbin referenced a FDA Oct. 23 roundup of nearly nine years of voluntary and mandatory reports, which included 13 fatalities following consumption of 5-Hour Energy and five after drinking Monster Energy. The report included incidents involving Rockstar Energy Drink, although no fatalities occurred with this beverage.
The administration cautions it has not concluded these products caused any adverse event noted. Report data indicates information only as reported and may not include other contributing factors such as heart disease or what medications were consumed. Additionally, there may be more than one report of the same event, such as from both the treating physician and patient.
The FDA further cautioned that the reports may not include sufficient contact information to allow follow-up or the participants may elect to not participate in further investigation.
In addition to the deaths listed, adverse events mentioned ranged from anaphylactic shock and renal failure to fatigue or nausea.
Monster Energy issued a statement that it stood by the safety of its drink.
Living Essentials, distributor of 5-Hour Energy, is unaware its product caused any deaths, according to company spokeswoman Elaine Lutz. She described 5-Hour Energy as a "compact-sized energy shot intended for busy adults; it is not an energy drink, nor marketed as a beverage."
Durbin and Blumenthal repeatedly have raised questions over the interaction of ingredients in energy drinks and the effect that the caffeine in energy drinks has on children and adolescents.
A year ago, the Mayo Clinic reported 200 to 300 milligrams of caffeine daily is generally not harmful to healthy adults, but more can lead to unpleasant side effects such as insomnia or stomach upsets.
Mayo stated a 2-ounce container of 5-Hour Energy has 207 milligrams of caffeine, while an 8-ounce can of Monster contains 80 milligrams. A 16-ounce container of McDonalds or Starbucks Pike Place coffee each has 100 milligrams of caffeine, the clinic added.
Durbin was a proponent of the FDA's 2004 ban on the sale of dietary supplement containing ephedra. Ephedra was usually marketed as dietary aid or energy enhancer and often was available at truck stop checkout counters under labels such as Truckers Luv It and Black Beauty,
The senator also has introduced legislation to require manufacturers of other dietary supplements to ensure these products are safe before they are sold.