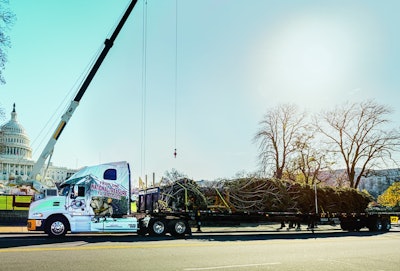 Following a 5,300-mile trek around the country the last several weeks, the 2012 Capitol Christmas tree was delivered, erected and illuminated Tuesday on the west lawn of the U.S. Capitol.
A Mack Pinnacle carried the tree to its destination from the White River National Forest in Colorado — the tree's origin. The truck featured decals of the Mack bulldog pulling a tree across a snow-covered landscape, and the Pinnacle used was powered by a Mack MP8 engine and mDrive automated transmission.
The tree will be lit at dusk daily with 10,000 LED lights throughout the holiday season.