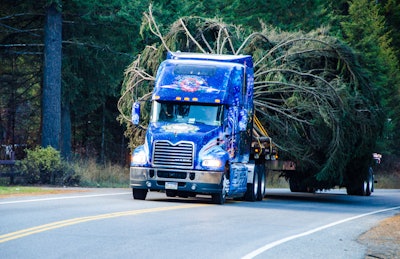 The 2013 U.S. Capitol Christmas tree was harvested from the Colville National Forest in Washington State to begin its multi-state trek to Washington, D.C. with the help of a 2014 MACK Pinnacle model truck, pictured above.
More than 300 people joined the U.S. Forest Service and state and local government representatives Nov. 1 to celebrate the harvesting of the 88-foot, 80-year-old Engelmann Spruce. The Pinnacle hauling the tree will make 24 stops in cities nationwide during the next month before delivering its special cargo to our nation's capital.
The festivities in Washington State were marked by Kalispell Native American tribe members offering a blessing and conducting a traditional Native American drum circle. State and local elected officials, tribal leaders and organizers of the Capitol Christmas Tree project from Choose Outdoors made remarks before the tree was harvested and carefully lowered, under the watchful eyes of more than a dozen spotters, onto the custom trailer.
The Pinnacle model is wrapped with a custom-designed decal featuring a bulldog pulling a Christmas tree toward Washington, D.C.
Mack Trucks has been a sponsor of the Capitol Christmas tree tour several times during the last few years, most recently in 2011 and 2012. In addition to the truck hauling the tree, Mack is also providing a second Mack Pinnacle model that will haul companion trees to decorate other parts of the U.S. Capitol. U.S. national forests have been providing a Christmas tree for the U.S. Capitol since 1964. The tree will be decorated with more than 5,000 handmade ornaments and lit in an official ceremony in early December.