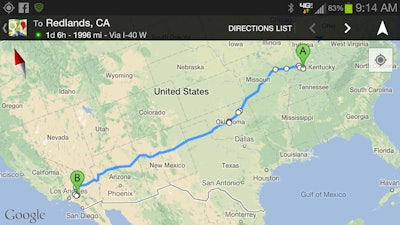 We're back on the road and heading cross-country again. I'm finally going to get to see Nevada and my father-in-law is going to be one dirt clod closer to the mother ship. I'm really excited to be back out — I missed my time on the road this month. I'm afraid I've got the trucking bug. I'm beginning to understand why you do what you do. If I'm home for more than a couple of weeks, I start missing the road and feeling pretty antsy. It's either the trucking bug or scabies.
We're heading to Redlands, Calif., and from there we go to McCarran, Nev. The drive between Redlands and McCarran is all new stuff for me. I'll be looking for the usual things — Sasquatch, alien ships, clean showers, good places to eat. I'm also looking for suggestions, neat places to see along the way, things to do (hah! – like we have time to do anything, but just in case). We'll be picking 40 up in Oklahoma City and taking it all the way to Cali, so put your thinking caps on and send me some ideas.
So here we go. Off on an adventure together, just us and the people who follow along from home. Let's do this.