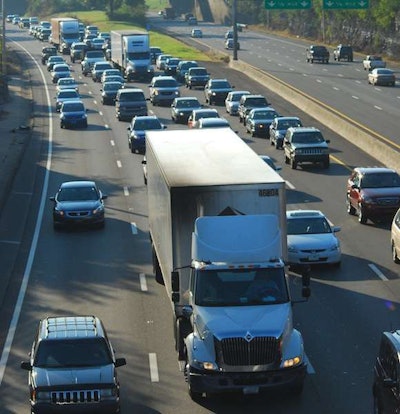 The trucking industry as a whole was the victim of a $27 billion loss in 2011 in the aggregation of time spent and fuel wasted in congestion on U.S. roads and highways, according to a study from Texas A&M.
The university's Transportation Institute says that U.S. drivers as a whole lost $121 billion in 2011 due to traffic congestion — an average of $818 per commuter on American roads.
These numbers were offered up in the Transportation Institute's Urban Mobility Report, compiled initially by Texas A&M with the intent to offer the public a reliable measure of how long it would to get from one place to another via car, because of congestion, the report says, planning has become more difficult. That aspect of the report is called the Planning Time Index.
The report also compiled the top 10 most congested cities in America:
Washington, D.C.
Los Angeles
San Francisco-Oakland
New York-Newark
Boston
Houston
Atlanta
Chicago
Philadelphia
Seattle