Continental Tire's strategy for 2013 and beyond, said Executive Vice President Paul Williams, will be "focused on the whole vehicle, not just the tires." Speaking to press and others at a Wednesday, March 20, briefing in its booth at the Louisville, Ky., Mid-America Trucking Show, Williams emphasized the company's new "One Continental" approach. "Tires make up only about 40 percent" of the company's total sales worldwide. Active in 36 countries, the company is increasingly focused on leveraging its automotive products and other capabilities to deliver on their core mission, to "help in lowering fleet costs," Williams said.
In addition to lanching a tire pressure monitoring system and electronic onboard recorder, however, Continental stressed that new tire technologies, still, are a big part of the "One Continental" strategy.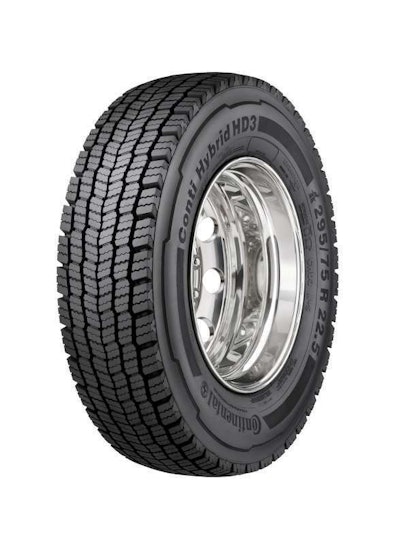 The company is unveiling a brand-new "hybrid" drive tire that fits efficiency and durability needs of commercial truck operations that combine long-haul with regional traffic. The Conti Hybrid HD3 will be available in April at Continental dealers throughout North America, said Brand and Communications Manager Alex Chmiel. "We listened when our customers told us they needed fuel efficiency when they are on the highway, and the durability and extended mileage when they're on regional roads. But it's impossible to think that they can constantly change their tires, even when routes may switch from short to long hauls on a weekly or even daily basis. Our new Conti Hybrid HD3 addresses the needs of this evolving segment in order to provide the best of both worlds from one all-new truck tire."
The SmartWay-certified Hybrid HD3 is now the company's widest dual drive tire at 248 mm, with 27/32nds tread depth in a new regenerating pattern that is cut in three dimensions, said director of truck tire technologies Libor Heger. The combination of these characteristics and a large tread volume allows for long life, as well as a larger footprint that provides excellent traction when operated on highways.
Other characteristics include:
Regional traffic requirement are met via tread geometry with three-dimensional lateral sipes and "a directional tread pattern to provide more gripping edges on the road surface that a traditional drive tire," Heger said.
Advanced tread cap compounding, a self-stabilizing rib-block pattern and minimized tread deformation from a stiff shoulder improves rolling resistance by 10 percent over the company's HDR2 and HDL2 DL.
The company's ContiGoodsCasing features maximize retreadability with a premium belt package, flatter contour and a more supportive bead package.
Williams noted the growing importance of retreading to the company's global business, including North America, where they entered the retreading business a "couple years ago. Demand was so high last year we had to top signing dealers up." To keep pace, the company now has added 1 million tread rubber to its capacity and is working hard to add to its list of SmartWay-certified retread tires.
Standardizing its dual-tire casings to allow for use in different tractor and/or trailer positions at different points in the casing life cycle has also been a priority to see fruition with the company's "Generation 3" tires, its current technology. The new Hybrid as well as the HD3 drive and trailer tires "all have the same-width casing," said Williams. "The trailer tire can be retreaded to a full-width drive tire. We reinforced the casing and bead area as well and made it one of the widest casings available in the marketplace," also an advantage for retreaders, who "don't have to pick different widths of tread rubber for the casings.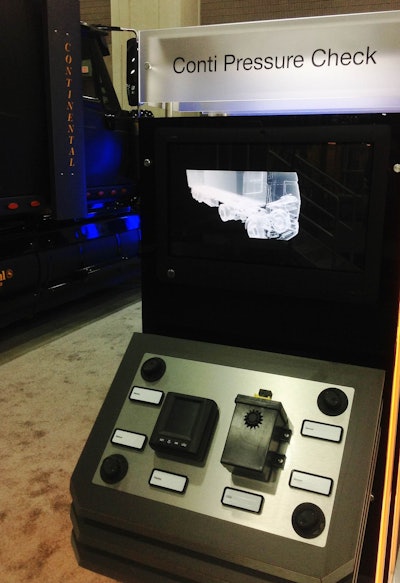 Continental's expansion will continue, said Williams. "We'll continue to expand manufacturing output" –by 22 million units by the year 2025, and "we're building brand-new tire plants this year." One of them will serve North America from its location in Sumter S.C. The company has planes for a new plant every year for the next nine years."
Also newly available at the show is the ContiPressureCheck tire-pressure monitoring system, whose pressure and heat sensors install on the inside of the tire – there's no balancing issue, said Business Development Manager D.J. Frye. Cost for a full 18-wheel tractor trailer would run in the neighborhood of $12,000, with the system being under $500 for the trailer and under $700 for the tractor. The sensors combine with an in-cab unit that will issue pressure alerts to the driver.
The Continental VDO RoadLog electronic onboard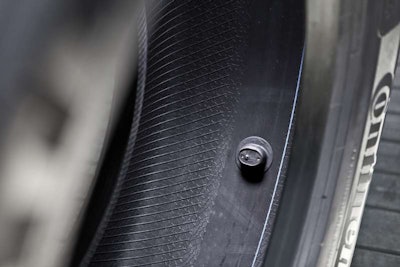 recorder (EOBR) for hours-of-service logging is likewise being showcased in a hard launch at the company Mid-America Trucking booth (#18252) after last year's soft launch (read more about it here). It's available for purchase from distributor NSI, Inc. in the West Wing pavilion as well, at a price under $500. It's unique among many stand-alone EOBRs in working in a built-in printing function for inspectors who demand it.