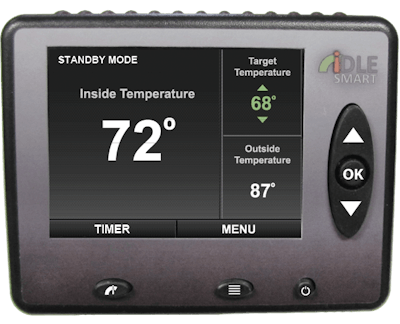 Idle Smart released the next generation of its patented idle reduction solution at the Mid-America Trucking Show in Louisville, Ky. The automatic engine start-stop system provides enhanced features and functionality to allow vehicle owners to save substantially on overnight fuel costs while providing drivers ongoing cabin comfort. The system consists of a thermostat control unit typically mounted in the sleeper, wiring, sensors and the "brains" of the unit (pictured below), which plugs into the truck's computer behind the dash. Total install time is around 90 minutes, says company Produce and Marketing Vice President Ryan Bennett, and the entire system weighs less than 5 pounds. "Idle Smart is the only solution of its kind on the market today," said President Jeff Lynch. "We believe in the value Idle Smart offers and in standing behind our product."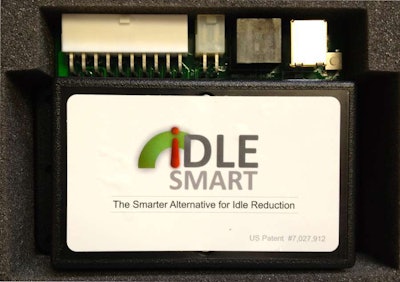 The company estimates it could save operators from 30 to 70 percent on their downtime idling costs, depending on outside temperatures. The company offers both a lifetime product warranty as well as a 100 percent 365-day money back guarantee. Says Bennett, "If it doesn't save the amount of fuel you want it to, send it back" and the company will refund the purchase price.
MSRP is $4,495, and Idle Smart units can be purchased through dealers around the nation. The company is building out its dealer network, adding more daily. Bennett suggested owner-operators looking to purchase a unit contact Idle Smart with their preferred truck/equipment dealer. Find more at their website or visit them at MATS Booth #60052 in the West Wing.