Detroit Diesel Corporation (Detroit) introduced its Million Mile Club, a new ownership community that thanks long-time Detroit engine drivers for their loyalty, at the Mid-America Trucking Show in Louisville, Ky. this week.
The program was launched in conjunction with the 75th anniversary of Detroit.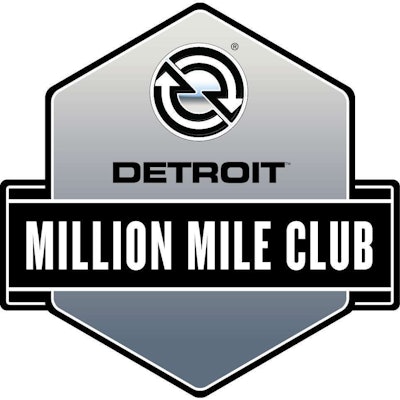 Membership is open to U.S. and Canadian fleet owners and drivers with 1 million or more miles on their Detroit engines, and members are eligible for variety of perks, including a baseball hat, coffee mug, vehicle badge and more. Members will also receive news and updates from Detroit.
"The Million Mile Club is just one way we can thank and recognize our customers for their hard work and trust in our engines," said Brad Williamson, manager, engine and component marketing for Daimler Trucks North America.
Any brand of truck in operation qualifies as long as it has Detroit engine. Fleet owners/drivers with less than 1 million miles but interested in future membership can join the Million Mile Club community for updates.