George and I spent the last three days walking 10,000 miles around the Kentucky Expo Center, trying vainly to see all the Mid-America Trucking Show had to offer. I believe it would have been entirely impossible to visit every exhibit without the aid of wizards and rocket boots. And a hovercraft.
This was my second trucking show overall — I was christened last year at the Great American Trucking Show (GATS) in Dallas. I thought that was a giant show until I went to MATS. The Dallas show was more enjoyable for me personally, because the layout made sense to someone other than a drunken animal and didn't seem completely oversold. I'm not a huge fan of crowds, but Dallas spaced the booths in a way that didn't impede foot traffic and had plenty of stuff to see without being overwhelming and impossible. I don't think bigger is better when it comes to trade shows.
I'm not saying I didn't enjoy myself, we got to see a lot of our friends from the industry, and Anne Ferro and I are best buds now.
Kidding! (I'm going to teach her how to french-braid next weekend.) But I did get to meet her and ask her the solitary question I had for the only high-ranking government official I've ever met.
"Do you have a driver's license?"
Of course I didn't just walk up and blurt it out like that, I hung back and let other folks take pictures and stuff for a few minutes while I psyched myself up to speak to her. I couldn't decide if I should curtsy or bow or something official, and while I was trying to work this out in my head she turned around and looked at me like I was supposed to say something, so I just stuck my hand out and went with a business-like, non-curtsy approach.
I explained to her I didn't drive professionally, I just kind of wrote about what I experience out on the road as a non-trucking person in the trucking industry, riding along. She was really nice and personable, she seemed genuinely interested in what I do, which was very flattering. I only had a couple of minutes to chat, and I told her I got the feeling a lot of professional drivers out there don't think she's very connected to what they're actually up against. I also told her there was a rumor that she didn't have a driver's license. She pretty much cracked up when I said that.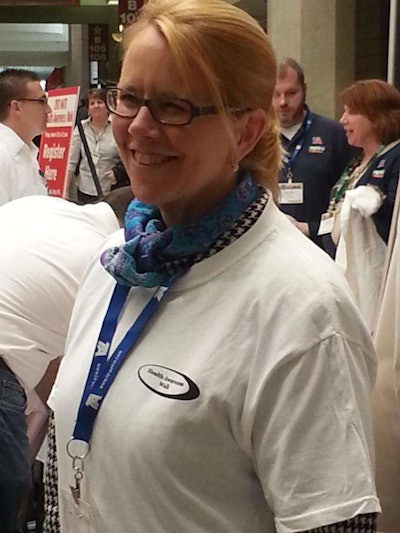 "I don't have a CDL, but I've been driving since I was thirteen. Yes, I have a driver's license and I do drive."
I was tempted to mention driving at the age of thirteen is illegal, but then I remembered getting busted taking my Momma's Delta 88 for a spin around the block and promptly into a garage door when I was fourteen, so I decided to be cool. Anne and I are outlaws, that's how we roll.
Time was short and I was really nervous because there were a lot of other people waiting for her and I was totally tempted to ask her if she believed in Bigfoot, so I just kind of thanked her a lot for talking to me. This is probably why The Ever Elusive and Sometimes Famous Max Heine leaves important interviews up any other human being who can hold a thought for more than 11 seconds.
Thankfully, she was kind enough to turn me over to a very nice man named Duane DeBruyne, who smelled good, had awesome hair, and smiled a lot.
Oh yeah, he also exchanged information with me and offered to set up a question-and-answer kind of post for the blog with Mrs. Ferro, which will be one of the coolest things I've done yet. She can help explain in her own words what she thinks qualifies herself and other people in government, who don't have CDLs and can't relate on a personal experience level, to make rules for Joe Driver. More on that later, because I'll definitely need our readers' help with questions that don't pertain to alien abduction and Bigfoot's CSA score.