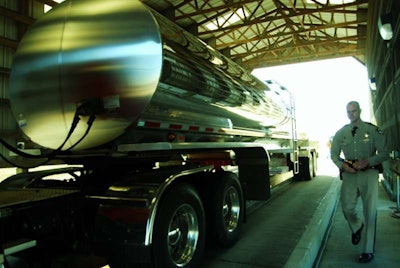 Analysis of nationwide inspection data by Overdrive and CCJ shows a marked variation among the continental states in inspection intensity, as well as which types of violations get attention.
The inspection efforts range from Maryland, whose officials conduct 32 inspections per lane-mile of National Highway System, to Idaho, where only two inspections per lane-mile were done during the first two years of the Compliance Safety Accountability program.
Looking at the focus on particular violations, only 3 percent of Idaho's total written violations pertain to tires, while tires get more than twice the attention – 7 percent – in Maryland. In the lighting violation category, Ohio tops all states with a third of all written violations pertaining to lights, far more than many other states.
Such differences can affect entire regions. Someone lucky enough to run between Idaho and mid-state Minnesota won't cross a state with an inspection-intensity level of more than 7/lane-mile. Yet someone running regularly between Southern California and Texas will stay in four of the top 10 states for inspection intensity.
With the latter's inspection likelihood more than twice as great at the other, his business could be that much more likely to find itself in the Federal Motor Carrier Safety Administration's CSA crosshairs. Because the agency's Safety Measurement System ranks carriers for their inspection and crash performance against each other on a nationwide curve, state and regional enforcement disparities hold the potential to make or break a business unfairly.
FMCSA says its ongoing efforts, as well as those by the Commercial Vehicle Safety Alliance, are aimed at improving the uniformity of state practices. Such disparity is also a prime reason, the agency says, that carriers are put into peer groups – or "safety event groups" – for percentile ranking purposes that are based on exposure. A carrier's number of relevant inspections in all BASICs (except for Unsafe Driving and Crash Indicator) determines to whom that carrier will be compared in the rankings.
But all the same, given the widely varying enforcement by state, a one-truck independent who runs mostly into and out of California along the U.S. Southern border might find himself compared to a considerably larger fleet running in low-intensity states across the nation's northern tier.
Another inequity is that the program does little to nothing to account for differences in exposure among different industry segments, says Joe Beacom, vice president of safety at Landstar, the nation's largest owner-operator carrier. Consider the inspection risk for Landstar, with a large portion of owner-operators pulling open-deck trailers, and the risk for a van carrier, says Beacom: CSA "is not as 'fair' as it's intended to be."
Avoid problem states …

That is, if it makes good business sense. "My CSA scores are zero," or as good as the 0-100 safety-ranking system gets, says Melvin Davis Jr., independent owner-operator of Davis Trucking, based in Hartford, Mich. "I intend to keep it that way." It's not particularly hard for Davis, he believes, given he keeps his 1988 custom Freightliner FLD in top working condition – and chooses to operate mostly in one region, the Midwest.
"I haven't been to California in four years," he says. California, with a highly active weigh-station inspection program, ranks No. 2 overall for inspection intensity in our analysis.
Such avoidance is not possible for all drivers and carriers, of course, including former Mercer-leased owner-operator Daniel McCreary, now a company driver for Domino's. He operates out of the pizza chain's service center in Maryland. When McCreary started driving in 1998, he was based in Texas. During the first two years of his career, he didn't get a single inspection running out of the Lone Star State. When he moved to Maryland, "I was inspected seven times in the first year alone. I-95 was covered very strongly."
Today, Maryland itself is well covered with weigh stations. Inspectors are active, too. The station McCreary deals with mostly "doesn't even have an in-the-ground scale," he says. "It's an inspection station exclusively, and they'll concentrate on one particular type of vehicle on whatever day. They'll pull you in and talk to you when they get a lane empty."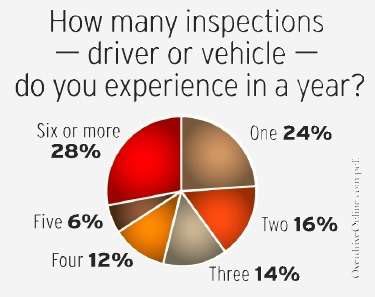 In the past 12 months, McCreary was inspected twice in Maryland and once in Virginia, a level of inspection above average for single-truck operators with their own authority, according to RigDig Business Intelligence data, though it's about average according to our poll of readers, which also includes leased and company drivers. That poll shows the variability of inspections per year is huge, depending on the operation.
Owner-operator Mike Falesch, hauling household goods cross-country under United Van Lines and working with California-based agent Chipman Relocations, might get as many as one inspection a month in his 2013 Kenworth T660 and 2010 Kentucky spread-axle moving van. That's in spite of the equipment being relatively new and his keeping it in top shape and doing all the traditional things – no dash clutter, rig clean and chrome polished – to avoid a checkup.
"There used to be a code of ethics," says Falesch, describing an understanding between operators and officers that "if you kept your equipment looking good, they would leave you alone."
No longer, he adds – or at least not in the most active jurisdictions – and his thoughts reflect those of many of his peers. Polled on CSA problems, 22 percent of Overdrive readers noted a deteriorating relationship between roadside law enforcement and drivers as the initiative's top problem.
Fortunately, McCreary says, most days it's possible to get out of his home state into neighboring Virginia "before the scales open. Our guys who run in the daytime get [inspected] a lot more than I do."
Know your inspector – and his priorities
If your operation is local/regional or on regular lanes, do what you can to distinguish it as tops for equipment condition and safety. The 23-truck Givens-Houchins milk tank fleet, headquartered in Leitchfield in the No. 3 ranking state of Kentucky, is well-known among inspection staff at the Franklin County scale on I-65 North for its equipment. Givens company driver James Piper heads across the Tennessee-Kentucky border south toward Nashville, Tenn., and back daily; he crosses two Tennessee scales and one Kentucky scale on I-65 nearly every day.
Pulled in for an inspection in January at Franklin County, the Freightliner and liquid-bulk tanker he was piloting – not his regular unit, which is a Western Star and was in the Givens paint shop on the day in question – passed the inspection with flying colors despite a leaky water pump he'd identified during his pretrip inspection that morning. The officer chose to overlook it, trusting the driver that the shop would have it repaired by day's end.
"They're pretty good to us," Piper says of the Kentucky station's inspectors.
Forging relationships with inspection staff, where possible, can prove to be valuable. One way to do so in some states has been to take advantage of enforcement officers' willingness to conduct on-demand vehicle inspections onsite at carrier facilities headquartered within their state. Such inspections present opportunities to identify problems as well as improve high BASIC scores with clean inspections.
Kentucky is one state that doesn't do that. "If they call, we'll go out and talk to them, but as far as going out and inspecting their trucks, we don't do that anymore," says public affairs officer Dewayne Koch. The issue is manpower and shrinking budgets.
Owner-operators and small fleets, data show, are more likely to register scores in the Vehicle Maintenance and Hours of Service Compliance BASICs (Behavioral Analysis and Safety Improvement Categories) than any other categories. Maintenance violations, according to data analyzed by RigDig BI, account for more than 70 percent of the total violations within the CSA SMS.
In general, any state with a highly active weigh-station inspection program will focus on high-priority safety-sensitive components such as tires and brakes. More commonly used in scale houses are infrared cameras that detect overheating or cold tires and brakes, making identifying any problems in those areas during pre-inspection screening much easier.
"We utilize the infrared camera a lot to spot brake violations," says Sgt. Kelly Anderson of the Kentucky State Police. "We've had it for six or seven years, and it's a very good tool." Kentucky ranks 12th nationwide among states focused strongly on maintenance violations.
States where road officers are highly active in day-to-day truck inspections – often in details on state/county roads – show more evidence suggestive of nitpicking enforcement, such as a disproportionate focus on lighting infractions, form and manner log violations, a large number of speeding marks and other issues.
"Because I work the road, I look for traffic violations" as a general rule, says Kentucky road officer Brandon Ford, but depending on "what county I'm in and what we're seeing issues with in terms of crashes," he might concentrate on logbook or weight violations.
In Alabama, where independent owner-operator Brad Lambert's B&D Transport flatbed operation is based, use of portable roadside scales and inspection stations is common. While driving local once, he was pulled onto such scales three times in a single day.
"It's not just around Birmingham," Lambert says. "I see them everywhere here. Mostly, their concern seems to be weight. They don't ever really look at anything underneath your truck. They'll look at the tires and do a walk-around. I've never had one that wanted to get underneath the truck in a roadside inspection."
States' focus on truck inspections can shift from year to year depending on budgets, but don't look for radical change in Maryland anytime soon. Capt. Bill Dofflemyer of the truck enforcement unit says they signed on 30 new inspectors at the beginning of the year, bringing the state's total inspection personnel to 156.