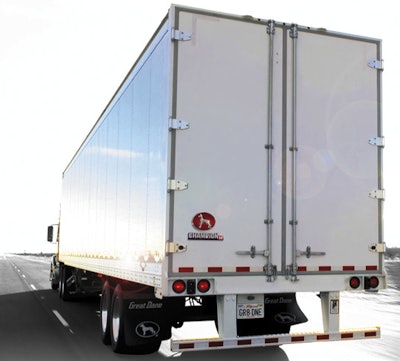 Jackie Wormley of Hutchins, Texas, bought her first trailer in 2006, even though she was leased to a company that required owner-operators to use its trailers. She waited until joining Landstar in 2011 to put the trailer into service as part of her "run smarter, not harder" philosophy. The result, she says, is increased revenue and better control of her business.
"Last year, I ran less than 70,000 miles and had an increase in revenue of about $6,000 pulling my own trailer," Wormley says.
The extra revenue is not the only financial payback for Wormley. With the addition of an ATDynamics Trailer Tail, wide-single tires and small airflow enhancers called Airtabs, she is boasting more than a mile-per-gallon savings over her prior operation.
A leased owner-operator owning his or her own trailer can expect to earn 3 to 12 cents per mile more, with the average being about 6 cents, says Todd Amen, president and chief executive officer of the owner-operator financial services company ATBS. That equates to a $350 to $800 increase in monthly revenue.
However, financial gain wasn't Wormley's main motivation. "The number one benefit of buying a trailer is CSA (Compliance, Safety, Accountability) because you are in control of it," she says. "You take care of it, and you know what you have. That's not true when you are pulling company equipment."
Not being hit with equipment violations and keeping a good CSA score makes the owner-operator a more attractive client for fleets, Wormley says. Also, leased owner-operators often are charged for using fleet trailers. The overall savings in equipment charges and fuel – coupled with a higher percentage of revenue or per-mile pay – are icing on the cake.
"Some independent contractors make more money with a trailer," Amen says, "while buying a trailer bankrupts some if they haven't properly thought through it."
Overdrive research shows 93 percent of independent owner-operators own their own trailers, as do 48 percent of leased owner-operators.
Wormley paid cash – $15,000 – for a used van and expects to see a full return on her investment in less than three years. Though she is not running a lot of miles compared to the average owner-operator, Wormley has a dedicated route hauling windows between Iowa and Montana. She averages 45,000 to 50,000 pounds per haul, which helps her fuel mileage. "This is another plus of having your own trailer," Wormley says. "It allows you more freedom to find the right loads and select the places you want to go to make the most money."
Amen says a good rule of thumb for an owner-operator is to earn 1.5 times the investment. If the trailer costs $600 a month to finance, it should generate at least $900 a month in extra revenue "or it's not worth the risk."
Pros and cons of trailer ownership
Pros
Increased revenue

Confidence in condition of equipment

Depreciation savings in first three years of ownership

Opportunity to customize operation to fit your needs
Cons
Increased maintenance costs

Increased administrative costs (insurance, plates, etc.)

More responsibility for staying with load

Possible reduction in total load miles due to less drop-and-hook
Specialty applications, such as pneumatic trailers for fracking operations, oil field tankers, car haulers and heavy-haul trailers, are often a no-brainer for purchasing a trailer. "You can often bring capacity and special services to a market that will pay extra for it," Amen says.
One drawback to buying a specialty trailer, he warns, is that "as that freight diminishes seasonally or economically, you are tied to that industry segment due to your specialized equipment."
In general freight, also be cautious if a big part of your business relies on drop-and-hook operations. "The biggest pitfall is owning a trailer that hinders your productivity in a high-volume drop-and-hook segment of the industry – dry van and reefer," Amen says. "You may have to wait hours to get your trailer unloaded, whereas if you were operating in a pool of trailers provided by a fleet or shipper, you can drop and hook in minutes and continue driving, which is what you get paid for."
If they're well maintained, it's not uncommon for trailers to last more than 15 years, which makes buying used an attractive option for owner-operators looking for their first unit. "It is often best to buy a good used 5- to 10-year-old trailer so you can minimize upfront capital costs," Amen says. "The exception is if you are in a specialty segment, such as reefer trailers that must be a certain EPA standard."
Wormley bought a used trailer and added fuel-saving devices. "I'm very mechanically inclined, so I knew what I was looking for," she says. "Still, I was dropped out on a hill with hundreds of used trailers to pick from, so you have to be careful when buying used."
She doesn't necessarily advise going the used route for first-time buyers – especially for those lacking a mechanical background. "I've never been a fan of financing, but with all the new regulations and the improvements with fuel-saving devices now offered on new trailers, I think if the fuel-saving and extra pay will pay for it, owner-operators absolutely should consider a new trailer."
Tips for spec'ing a trailer
MAKE SURE THE SPECS FIT YOUR APPLICATION. Look at the floor rating to determine if it works with the weight you are hauling. You also may need additional equipment that protects both tractor and trailer. The more frequently you load and unload, the higher your maintenance costs.
CONSIDER VERSATILITY. If you choose a reefer, you have access to a larger pool of freight and often the potential for higher revenue; on the other hand, maintenance will be more expensive. Certain types of open-deck trailers accommodate more varieties of freight than others.
BE AWARE OF CALIFORNIA REQUIREMENTS. If your business takes you to all 48 states and/or Canada, pay special attention to size, model, style and axle and suspension configuration. California has current and pending specific Air Resources Board regulations that pertain to trailers, such as SmartWay equipment requirements, age of trailer and mandates such as the distance from the kingpin to the rear axle. Also in California, refrigeration units must pass emissions testing, while van trailers must have certain aerodynamic equipment.
MINIMIZE MAINTENANCE. Spec for long-life components such as brake linings, wheel ends and coatings that reduce corrosion. Look for systems that eliminate wearable parts, such as puncture-guard trailer liners and axles integrated with the trailer beam.
CHOOSE LIGHTER EQUIPMENT. A trailer built with weight-saving materials allows for extra payload. Even if you cube out, a lighter trailer cuts fuel costs. For every 300 pounds eliminated, the fuel savings is 0.2 percent.