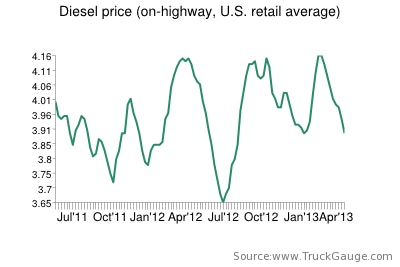 The national average price for a gallon of diesel fuel fell for the eighth consecutive week for the week ended April 22, in which diesel fell 5.5 cents to $3.887 a gallon, according to the Department of Energy's Energy Information Administration. The two-month decline has come directly after the national average peaked at $4.159, the highest price since August 2008.
The $3.887 a gallon, though, is the lowest price since Aug. 6, 2012. Moreover, diesel prices are 19.8 cents lower than the same week in 2012.
For the full diesel price report — including regional trends — see Overdrive sister site CCJ's report.