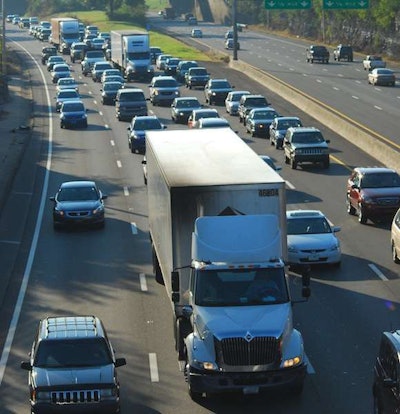 As an earlier report this year from traffic data collector Inrix indicated, 2013 has so far been a year with more traffic congestion than the last two.
In its latest report, the Traffic Scorecard, Inrix says 2013's first quarter saw a 4 percent increase in traffic congestion over 2012's. According to Inrix, traffic congestion is a strong economic barometer, where increased traffic means increasing economic activity and overall economic growth.
In 2012, traffic congestion dropped 22 percent from 2011.
The up and down of traffic congestion, too, signals that the economy "has not yet returned to pre-recession levels in many areas, including total jobs and unemployment rates."
2013 is the first year, though, since 2010 that traffic has increased month over month for the first three months of the year. Moreover, 61 of the country's largest 100 cities have seen upticks in traffic congestion, while just six saw gains in 2012.
The top 10 most congested cities are, in order: Los Angeles, Honolulu, San Francisco, Austin, New York, Bridgeport (Conn.), San Jose (Calif.), Seattle, Washington (D.C.) and Boston.