Federal Motor Carrier Safety Administration Associate Administrator for Enforcement Bill Quade, speaking at the annual Commercial Vehicle Safety Alliance Workshop in Louisville, Ky., said the agency will move forward with making the new Hazardous Materials Compliance BASIC (Behavioral Analysis and Safety Improvement Category) public "in November or December" this year. His statements came during a "Life Cycle of a Roadside Inspection Violation" daylong seminar April 22 in which Agency and state law-enforcement representatives, among others, followed violations through their observation during inspection through to their contribution to carriers' Compliance, Safety, Accountability scores to their effect on subsequent safety investigations, or interventions.
Revamped DataQs website coming as early as Saturday, April 27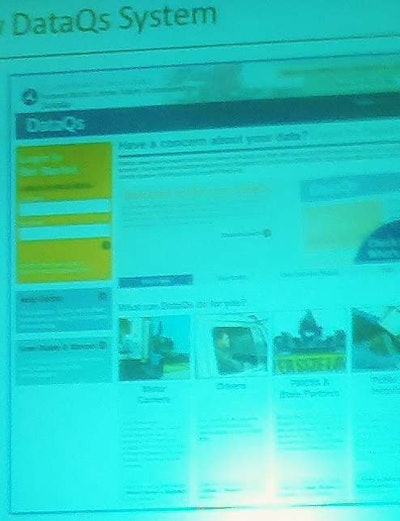 A new, more-intuitive design for the DataQs website for challenging erroneous violations and crashes assigned to carriers in the CSA SMS could be live as early as Saturday, April 27, said Indiana State Police DataQs coordinator Michael Wilson, during a presentation on the particulars of his work dealing with incoming DataQs requests for review handled by his state. Among the enhancements include a more intuitive user interface, designed to make it much more easy for users to provide the needed informations to make a challenge/request for review. Other new tools there include:
New updated notifications and options for searching/reviewing requests.

Advanced search capabilities and new filtering tools for carriers with multiple active requests.

Type-ahead feature for searching inspection reports that may already be in the system — option to auto-populate data fields with information from the inspection.

Type-ahead feature for violations as well – this functionality will help populate the violation description.

Ability to add multiple individual requests for review pertaining to a single inspection on one challenge, rather than filing multiple forms.
The Hazmat BASIC measurements and percentile rankings today remain private, Quade said, as a consideration to industry: "We said we'd hold it nonpublic for a year because it was a new measure, to give the industry time to adjust."
The BASIC replaced the Cargo Related category in December of 2012, a change made for several reasons, one being the disproportionate representation of flatbed or otherwise open-deck haulers in the old BASIC. It was one among several Safety Measurement System methodology enhancements that were put through proposal and carrier data preview last year, a process FMCSA Transportation Specialist Courtney Stevenson said during the same April 22 seminar the agency would follow with new enhancements being looked at as priorities this year. Of the first order, she said, were possible changes to the public display of information on the CSA SMS website as part of an effort to pursue several goals.
Reinforcing that the SMS is a prioritization tool
Stevenson said the agency wants to reinforce to the public that the percentile-ranking is "not a safety rating," as well as further "recognize distinctions between BASICs rankings and crash risk." During a roundtable discussion capping the daylong seminar, several representatives of motor carriers in attendance made note of the business-world implications of the BASIC rankings — and difficulty improving the rankings in spite of very real, measurable carrier improvement in levels of violations. Stevenson said such considerations were high in the mind of the agency as they consider potential display improvements.
Setting the foundation for the SFD
A "Safety Fitness Determination" Notice of Proposed Rulemaking is expected this year, Quade said, Stevenson noting that the distinction between the concept of the primarily displayed relative percentile rankings versus the somewhat buried — in today's version of the SMS — absolute measurements was an area of prime display consideration. "For a successful NPRM" to tie SMS Results to carriers' safety ratings, currently still only the result of on-site comprehensive investigations or compliance reviews, downplaying the general-public importance of the percentile rankings could be a "key consideration," she said.
"We will base the SFD on absolute scores, not relative scores," said Quade. "When we do an SFD, we will be setting an absolute standard in terms of targeting our field resources" and providing a clear guide to the public on the ultimate safety fitness of motor carriers.
Addressing the concerns of small carriers
"While we do have sufficient data to assess information on the companies involved in 92 percent of the crashes," said Stevenson, "there's a sensitivity where some [members of the public] are interpreting a lack of data as crash risk, but that's not the case."
It's a phenomenon often remarked upon by members of the owner-operator and small fleet community, and Stevenson suggested the agency had taken it to heart and was working toward assessing whether appropriately prominent disclaimers or other solutions would be satisfactory to address it.
However, she added, ultimately the agency wanted to "retain the detailed data that's available that is bumping demand" on the SMS site today. With 45 million total hits yearly today, it's certainly an active website. For any big display changes, Stevenson said, a carrier data preview could be expected by year's end. Carriers and drivers would then have the opportunity to comment on any changes. "We have a commitment that we want to be transparent about where we're headed," she added. "We want informed comment – this idea of changing the display, it would involve notification and carrier preview…. We plan to host webinars very close to that preview period — when the carrier preview is turned on, look for notification of these webinars" and participate.
Other priorities for 2013 include:
Reinforcing FMCSA's safety mission in the SMS display and potentially integrating Safersys.org and the agency's Licensing and Insurance public information websites into the SMS site.
Enhancements to the SMS methodology itself, including "comprehensive modifications to the violation severity weights," said Stevenson, from a 1-10 system to a "low, medium, high" weighting system.
Changes to the utilization factor in Unsafe Driving and Crash Indicator BASICs. Today, the agency caps the possible mileage-per-power-unit at 200,000 miles, based on judgments made relative to vehicle-miles-traveled data available prior to CSA implementation. Now, "our VMT data since we rolled out CSA has improved dramatically," Stevenson said. "Some of the feedback [we've gotten suggests] it is not the proper cap" – 220,000 or 210,000 miles per-power-unit could be more appropriate, she said.
Adjustment to safety event groups in all the BASICs. To address the problem of carriers getting higher percentile rankings as the result of a clean inspection — or an old inspection disappearing from the ranking system — moving them into a different safety event group, Stevenson said the agency was considering a more refined approached to the safety event groups in which carriers are compared. "We're exploring dynamic safety event groups to make more narrow and overlapping" groups, Stevenson said.
Crash weighting. Results of of the long-term study of how to account for crash fault/accountability in the system are expected this summer.