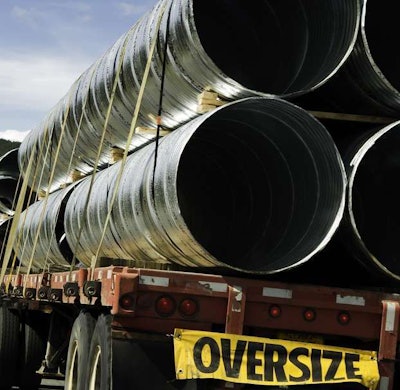 While the Department of Transportation has scheduled its first truck size and weight outreach session May 29, Congress has reintroduced opposing legislation — one bill would freeze the limits, another would expand them.
The last transportation reauthorization bill requires the DOT to complete a comprehensive study of the issue by November 2014. The May 29 event will be the first of four sessions for stakeholders to comment on the study.
On May 7, Sen. Frank Lautenberg (D-NJ) introduced the Safe Highways and Infrastructure Preservation Act, which would apply an 80,000-pound and 53-foot limit for tractor-trailer trucks to the entire National Highway System. Currently these restrictions apply only to Interstates.
SHIPA would expand the current freeze of triple-tractor trailer operations on Interstates to the NHS, but exemptions would exist, such as for firefighting equipment.
This year marks the seventh consecutive year SHIPA has been introduced. The bill, which has not been assigned a number yet, has three co-sponsors.
Conversely, Rep. Mike Michaud introduced the Safe and Efficient Transportation Act Feb.12. The Maine Democrat's bill would allow states to increase Interstate truck weights to 97,000 pounds. SETA or H.R. 612 would require these tractor-trailers have a sixth axle to decrease per-tire weight and improve braking.
SETA was referred to committee the next day and has 17 co-sponsors. The bill has been introduced four times since 2009.
The Owner-Operator Independent Drivers Association supports SHIPA, while the American Trucking Associations backs SETA.
The Teamsters and some safety groups also back freezing limits.
In related news, the Texas state Senate is considering a measure that would allow overweight permits for produce trucks on certain Hidalgo County roads. The House recently approved the bill, which stipulates an $80 permit fee per trip. The money would be indexed for inflation and used only for construction and maintenance of the roads specified in the legislation.
Those who wish to attend the DOT's Comprehensive Truck Size & Weight Limits Study in Washington D.C. should email CTSWStudy@dot.gov.
Stakeholders also may attend the webinar by registering here.