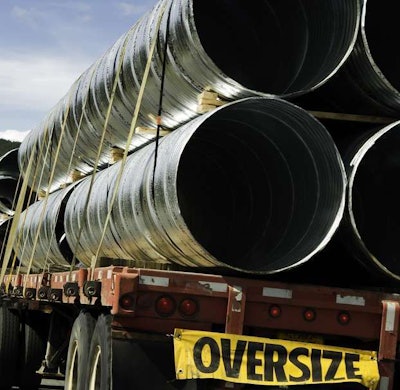 Upping the size and weight limits for trucks on U.S. roads would reduce traffic, help road conditions and help the trucking industry absorb growth in the next few decades, said representatives of fleets, manufacturing and transportation planning at a House hearing held Feb. 27.
FedEx Ground President and CEO Henry Maier told Congress that the amount of tonnage in the U.S. is expected to double by 2035, and changing the federal truck size limits will reduce the number of vehicles on the road, the number of trips and the number of miles necessary to transport freight. Maier, however, is not a proponent of changing weight limits.
"If we think traffic congestion is bad today, imagine twice as many trucks on our highways, not to mention more passenger vehicles," Maier said. "As a business whose customers rely on us for fast and reliable service, we can attest that impassable roads and bridges lead to increased costs, service delays and untold equipment damage."
Susan Alt, senior VP for the Volvo Group, said there'd be no safety trade off, as modern technology in trucks helps to mitigate safety concerns.
"With existing infrastructure, we can already move more freight with less fuel and less emissions, and with fewer drivers – and we can do that today with some policy changes," Alt said. "Throughout the rest of the world, Volvo Group already provides trucks that haul longer, heavier freight – safely."
Trucker trade and advocacy groups, however, have in the past opposed such acts by Congress, with the Teamsters and the Owner-Operator Independent Drivers Association both support freezing current truck size and weight limits.
Mark Gottlieb of the Wisconsin Department of Transportation told Congress his state completed a size and weight study in 2009 that pointed to "significant efficiencies and economic benefits" of longer and heavier trucks and "safety and infrastructure protection."
Maine Rep. Mike Michaud said his state also has studied size and weight, saying Maine's pilot program actually showed a decline in fatalities, along with other benefits. " What we've seen so far is lower shipping costs and improved safety without damaging our road system."
The U.S. Department of Transportation was directed by Congress in the current MAP-21 highway funding act to do a two-year study on truck size and weight limits to determine benefits and potentially safety problems.
***
Testimony was also brought in favor of reducing or eliminating the Federal Excise Tax on new trucks and replacing it with an increase on diesel tax.
Volvo's Alt told the panel that the price of a new truck has jumped from $100,000 to $125,000 due to emissions systems added to meet federal emissions standards, pushing the excise tax up another $3,000. The tax is "burdensome," she said, and is only more so for those looking to buy natural gas-powered vehicles, which cost about $200,000.
Alt told Congress truck sales and plant hiring would be boosted if the excise tax were eliminated and replaced with a tax on diesel.