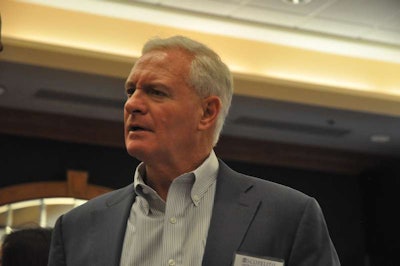 Pilot Flying J CEO Jimmy Haslam said he "was absolutely unaware" of the fraudulent fuel rebate withholding scheme his company and its salespeople allegedly participated in in recent years. He also said that all of the rebates owed to customers will be repaid with interest by the middle of July.
Haslam offered a short address and then answered questions from American Trucking Associations President Bill Graves at the 2013 Scopelitis Transportation Seminar in Indianapolis.
Graves asked Haslam whether he knew about the rebate withholding, as a federal affidavit released April 22 seems to indicate. Haslam said until the unsealing of the affidavit he "absolutely did not" know about it.
He also urged carriers not to sue for repayment of rebates, if they feel they're owed, but instead work directly with Pilot, as the company is auditing all accounts and working with all customers with questions to return any payment owed, he said.
Owner-operators who may have lost out on rebate checks should work with their carriers, Haslam said, because Pilot only works directly with carriers on the rebates, and carriers are then responsible for doling out rebates to owner-operators.
Haslam said that roughly 250 customers out of the company's 5,000 had a potential problem stemming from manual rebate calculation adjustment. The company has "zeroed in" on those accounts, but will audit all 5,000 contracts by summer, Haslam said.
A full story on Haslam's address has been posted on Overdrive sister site CCJ — Click here to see the report.