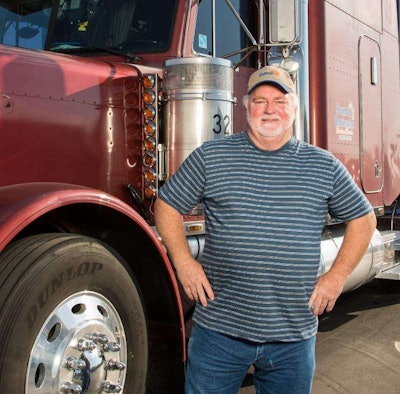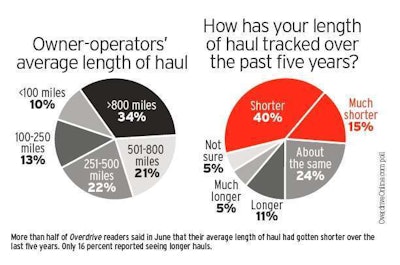 If one thing has been widely true about the freight market over the past several years, analysts say, it's that average length of haul has declined – notably in dry van and, more recently, refrigerated.
"In the mid-2000s, there was a huge move in the general freight dry van business," says Todd Amen, president and chief executive officer of owner-operator business services firm ATBS. Owner-operators in dry van, he says, "went from an average length of haul running 800 to 1,300 miles down to 400 to 500 miles."
Over that same period, overall yearly miles also fell and income rose slightly for ATBS clients hauling dry van, Amen says, continuing into the most recent two years. Between 2010 and 2012, ATBS numbers show operators' annual dry van miles fell 1.4 percent to 115,050, while income rose $3,688 to $48,556.
From the perspective of contracting owner-operators, Amen says, such shorter hauls "take more time, and they cost more money on a per-mile, per-load basis." The mid-2000s also brought dry van rate increases, Amen adds, "but carriers didn't necessarily change the pay of the contractors" until some years had passed.
Also in recent years, Amen and others note, regionalization has hit the reefer segment. "There's plenty of that 1,100-mile [or longer] haul left," says Amen, but cold warehousing and temperature-controlled intermodal have made short haul more of a norm.
As happened with dry van rates, reefer rates offered by brokers and shippers don't always compensate properly for the increased time associated with hauls of shorter length. "Overall productivity and total miles are coming down" for reefer haulers among ATBS' clientele, says Amen. "The pay per mile hasn't really caught up with that."
However, some carriers driven by fuel prices are well aware of these trends, says Jay Thompson, president of Transportation Business Associates. "It starts to make you do a different sort of planning," he says.
Thompson – active in consulting among produce haulers, growers and other shippers – delivered a presentation in 2012 to the Fresh Produce Association of America that argued a case for shorter-leg relays "like they have on the dry side." The old argument against reefer relays was that a shipper preferred having one trusted trucker to watch the shipment until it was delivered. Information technology now has given carrier and shipper back-office staff the ability to keep track of their loads and equipment from afar, says Thompson, eliminating the pressing need for that single pair of trusted eyes. And it's been a big boon to load planning.
From a larger carrier or shipper's point of view, he says, "When we think of produce, we think about it as multiple picks, and maybe multiple drops. Traditionally, you tried to assemble as much of a load on the front end from various places to go to one location on the other end. … Now, with planning software, you're able to get products more quickly identified and a planned load that would end up being picked somewhere closer to the destination. Same thing with beef – consolidated loads that would go to a distribution center strategically built."
Thompson gives the example of a meat facility in Tucson, Ariz., serving regional Kroger groceries. "When you think of grocery trucks going out of warehouses to stores, they come back empty," he says. With this model, "you're able to shorten loads."
As fuel prices have risen, temperature-controlled intermodal also has made inroads in long-haul reefer freight – to the point that Utah-based Central Refrigerated Service actually adopted regional strategies for different locations, says Nick Burbidge, head of the company's owner-operator division. For drivers and owner-operators, he says, each strategy "accommodates driver home time and assists in our recruiting efforts in parts of the country we didn't have a large presence in to begin with."
Shorter length of haul has helped operators' bottom lines in that "it is more consistent year-round than the longer business," Burbidge adds. "We have had to add administrative staff due to the extra volume in load counts and also increased the size of our trailer fleet to maintain utilization for our drivers." The company's average length of haul fell about "150 miles per load over the past two years," and now averages about 875 miles.
Owner-operator Bruce Johnston had a lucrative short-haul gig as part of Sunco Carriers' "Atlanta Local" team running refrigerated loads with his 1997 Peterbilt 379 through early 2009. Johnston ran back and forth between Atlanta and Birmingham –150 miles. Some years he grossed as much as $3,500 a week all year on just 55,000 miles, paid on a percentage of the load – $3.30 per mile to the truck.
The recession took some of the wind out of those sails. Today a majority of his dedicated runs log about 220 miles from Murfreesboro, Tenn., to Atlanta and then back to the Nashville area – 250 miles. The headhaul takes yogurt to a distribution center where it's parceled onto smaller delivery trucks. In 2012, his gross was $167,000 on 107,000 miles, or just $1.56 a mile. But he spent $90,000 on fuel, leaving $77,000 for other costs and net profit, which Johnston insists would have put him in quite a bind if he didn't have his truck paid off.
Fortunately, living in Chattanooga, Tenn., about halfway between Atlanta and the Nashville/Murfreesboro area, he reaps the rewards of what Amen calls perhaps the biggest side benefit of the trend toward shorter hauls.
"Drivers generally are home many more times a week," he says, adding that average yearly miles for ATBS clients have fallen by 29,000 from 138,000 over 10 years. "That's like driving two and a half months less. Drivers are still working hard, but it's just a different situation. He can be a family guy much more than he used to be."
On the reefer side in particular, rates need to come up to compensate properly for shorter runs, says Amen. Over the same two-year period analyzed for annual client figures in dry van, ATBS numbers show annual reefer-operator income falling slightly $535 to $46,756, with miles falling much more than on the dry side: 4.6 percent to 121,799.

Read Part 2 in this feature, showing what some carriers are doing to more adequately compensate contracting owner-operators for shorter hauls and how independents and self-dispatched leased owner-operators use good freight choices to maximize income potential for time worked.