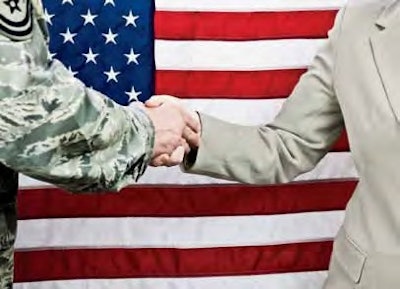 The Federal Motor Carrier Safety Administration has allotted $1 million in grant money to help train veterans for jobs in the transportation industry, it announced July 3, and specifically to become truck drivers, says U.S. Secretary of Transportation Anthony Foxx.
"The transportation industry provides a unique opportunity for military families and veterans to utilize skills they developed in the service, and we hope these grants will lead to more veterans joining the ranks of our country's commercial vehicle drivers," Foxx said.
The money will go to six colleges across the country as part of the Commercial Motor Vehicle Operator Safety Training grant program.
Trucking is a "high-demand job," says FMCSA, citing the Bureau of Labor Statistics, and more than 300,000 jobs in the industry will open up by 2020, says BLS.
FMCSA Administrator Anne Ferro says the money will be used for things like allowing states to consider military experience in commercial licensing tests and providing opportunities for industry job fairs, and that about 300 veterans could be trained for driving careers — about $3,300 per.
In 2011, the agency finalized a rule that gave states the authority to waive the skills test portion of the CDL test if an applicant showed two years of safe driving in the military equivalent of a commercial motor vehicle.
Here's a list of where the grant money is going:
Grays Harbor College in Aberdeen, Wash., $131,041
Long Beach Community College District, in Long Beach, Calif., $211,733
Orangeburg-Calhoun Technical College in Orangeburg, S.C., $150,000
Lone Star College in Woodlands, Texas, $184,260
Century College in White Bear Lake, Minn., $120,000
Joliet Junior College in Joliet, Ill., $176,427