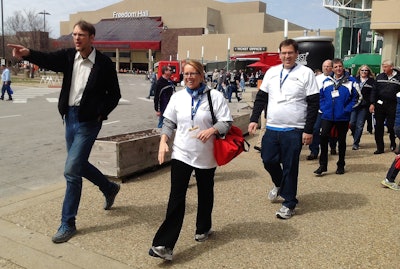 The Trucking Solutions Group will again be at the Great American Trucking Show in Dallas, Texas, Aug. 22-24, at the Dallas Convention Center.  The group will be conducting its annual Health Awareness Walk for the fourth year in a row and, in partnership with the American Red Cross, its third annual blood drive.
The Health Awareness Walk starts up Friday, Aug. 23, at 11:00 a.m, at the TA Petro booth #22089 on the show floor, part of the TSG owner-operators' long efforts to promote a healthier trucking community. Drivers interested in participated can pre-register via this link.  
The blood drive will be conducting Friday, Aug. 23, from 11 a.m.-5 p.m. and Saturday, Aug. 24, 11 a.m.-4 p.m., via the TSG booth #22053.