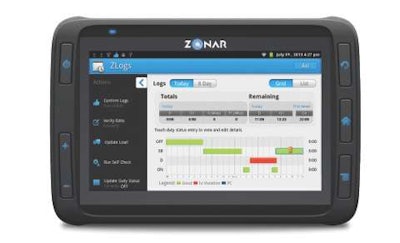 Detroit Sept. 18 announced that its DT12 automated manual transmission is now available for Freightliner Cascadias equipped with a DD13 engine. The company also introduced its Detroit Connect telematics system, which is designed to help drivers navigate, comply with hours of service regulations, perform pre- and post-trip inspections and send and receive two-way messages. 
Detroit Connect comes in the form of an Android-powered onboard tablet that was developed in conjunction with Zonar. In addition to the four aforementioned trucking-specific apps that come standard on the tablet, Detroit Connect offers 17 other trucking-specific apps. Also, any app available on the Google Play market is available for download, too. 
The DT12 and DD13 combo fits well with regional haul, pick-up and delivery applications, says Detroit. Key features of the transmission include its creep mode, which modulates the cluth to improve low-speed maneuverability and skip shift, which automatically skips gears to allow the transmission to run through lower gears and reach cruising speed sooner. 
More on the app
The pre- and post-trip inspection app on Detroit's new tablet allows drivers to check all vital vehicle systems and take pictures of any defects to send them to the fleet maintenance section. The navigation app offers a wide variety of route selections and voice control options. 
The tablet also has an hours of service countdown lock permanently displayed and provides alerts for drivers if they are close to going over. 
The tablet can be docked or undocked from the vehicle and comes with an integrated camera, Bluetooth and a built-in flashlight.
Full-production for the tablet with begin January 2014.