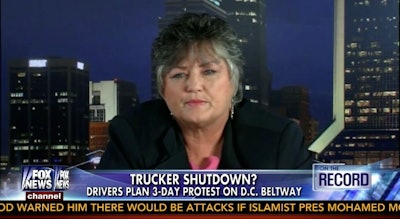 The trucker protest planned for this weekend, in addition to stating industry-related demands, is taking broad shots at President Obama and politicians in general.
Ride for the Constitution spokesperson Zeeda Andrews, interviewed Tuesday on Fox News' "On the Record with Greta Van Susteren," mentioned trucking "regulations" broadly in describing the convoy's mission, but also pointed to the effort's main purpose: "We want the president of the United States removed from office. He is a threat to our national security. He is a threat to our way of life."
The organizers of the Ride of the Constitution rally have split with bobtail convoy coordinator Earl Conlon.
Andrews and co-organizer Pete Santilli, an online radio host, have distanced themselves from driver Earl Conlon, formerly the coordinator of the Ride's bobtail convoy into Washington, D.C. Conlon told the Washington Post he lied to U.S. News reporter Steven Nelson about parts of the convoy's intentions to maximize mainstream media attention.
The Ride for the Constitution movement was spawned from a Facebook page titled "Truckers to Shut Down America" that went viral following television commentator Glenn Beck's mention of it on one of his broadcasts.
As reported via the Land Line Media Blog, original demands on the page included "remove Obama from office for crimes of treason and misdemeanors. We want Congressional hearing on Benghazi and Seal Team 6. Louis (Lois) Learner put in jail. No amnesty, remove all Muslims in our government that do not uphold the Constitution. Remove Eric Holder from office for crimes against the people and the Constitution. Last but not least is Fuel prices."
The focus on Obama and other federal elected officials is part of a convoy, consisting of truckers and others, planned for Friday to roll through the District of Columbia. In addition to a primary rally point at the Doswell Truck Stop in Doswell, Va., the Ride for the Constitution Facebook page is also now promoting a gathering of drivers at the Wilco location in Harrisburg, Pa., on I-81, exit 77. Driver J.B. Schaffner, a signatory to the Ride's manifesto, says drivers will be starting there at 4 a.m.
A separate tractor-trailer convoy is planned to circle the beltway Friday and get the attention of politicians and the general public by causing a traffic jam. Andrews and other organizers are calling for supporting actions outside of D.C., including truckers shutting down and the general public refraining from spending money Friday through Sunday.
Land Line's publisher, the Owner-Operator Independent Drivers Association, issued a statement opposing the demonstration, saying its leaders have no ties with trucking and until recently lacked a trucking-related agenda.
Overdrive blogger Kevin Rutherford has posted several reasons why he opposes the initiative and plans a live call-in discussion on a special online broadcast tonight. As of midday Wednesday, 38 percent of Overdrive readers reported they would shut their businesses down in solidarity with the protest, down from 43 percent on Tuesday.
The focus on "Muslims in government" on the original Facebook page manifesto raised the ire of many. One was Overdrive blogger Wendy Parker, who wrote that while trucking problems are worthy of attention, "All the other ancillary causes need their own platform."
The latest Ride manifesto includes five demands related to trucking issues: California's emissions regulations, hours of service, mandatory liability insurance, truck parking safety, and crash accounting in the federal Compliance, Safety, Accountability program.
Owner-operator Jason Haggard criticized the effort on his blog, objecting to the very name of the original effort, still in force via the #T2SUA hashtag organizers are using in their promotions.
"Is the goal of any professional driver out here today to shut down America?" Haggard asked. "I know I can speak for many of them who don't want to hurt the country even further, but they are willing to do what they must to get the attention focused to the issues that impact them every day."
Haggard added that organizers "keep adding things that aren't really pressing issues – fuel prices, emissions and other stuff. What about over-regulation, drivers getting paid for their time? … They're just adding anything to keep people jumping on board with them to whip people into a frenzy to support their political agenda."
Andrews, Haggard noted, "went from a former parking-lot singer at a truck stop to a former driver," referring to early Ride press that called Andrews a "former trucker."
Andrews has said she knows how to drive a truck and feels an affinity with truckers from her past touring experience and family connections to trucking. She has never hauled commercially or had a CDL, she said.
Haggard, noting the issue of trust, said he found it "odd" that co-organizer Santilli, who's also serving as media liason for the Ride, claimed in an e-mail to U.S. News and World Report posted here that Conlon is not a trucker and requested a retraction of the story about Conlon.
"This [entire effort] has the potential to blow up in everybody's faces," Haggard said.
When Overdrive spoke with Conlon again the morning of Wednesday, October 9, he was on the road, in the company tractor the former owner-operator now drives for a living. He declined to name the carrier he drives for at company request, but did say he still owns a truck but is wary of being in business for himself given the state of the economy and U.S. government today.
Santilli's statement to reporter Nelson that Conlon "is not even a trucker" is not true, according to Conlon. "They are making me out to be the bad guy, but that's all right," he said. He will still throw his support behind the Ride effort. "I do want peaceful, I do want lawful and I do want successful. I support this effort."
Owner-operator William McKelvie, who attempted to engage with Andrews and company early on in their efforts, was asked to participate last week in the conference call with organizers discussed in Overdrive's Tuesday report on the list of trucking-related grievances included in the Ride manifesto. He disconnected from the call early, discouraged with the effort.
"They lack focus and determination," McKelvie said of the Ride's planners and promoters. "Their plans of staging keep changing…. They have yet to listen to us honestly."
Owner-operator dispatcher Michael Winton, of Cookeville, Tenn., was also a part of the same call. He said that while he agrees with widespread complaints over regulations, rates and other trucking problems, "I'm leery of attaching myself to this cause. I wish the best for all the drivers participating and hope that something changes for the better."
Others, however, like driver Conlon, are on board with the effort. "Piggybacking on this monster is the only immediate answer" to many of drivers' grievances, wrote independent owner-operator Rey Moreno in the discussion under Rutherford's column. Moreno called the Ride effort "the only immediate vehicle to demonstrate our frustrations … I'm tired of being a whipping post and cash machine, and I refuse to just give up or walk away. Congress gets their way by shutting down, and eventually so shall we!"
The Ride's latest manifesto, which you can read via Overdrive's October 7 story on its release, begins with an intro that immediately invokes the name "Barry Soetoro, aka Barack Obama," which relies on a theory that the Soetoro surname is President Obama's legal name. This originates in part from a 2009 April Fool's Day email that circulated widely.
It purported to be an Associated Press story claiming a young Obama applied for a foreign-aid scholarship to Occidental College as a foreign student, using his mother's Indonesian surname by marriage. According to the rumor-verification website Snopes.com, the scholarship did not exist then, nor did the group cited as having claimed evidence of the application, among much other evidence of the story's hoax status.
The Ride for the Constitution manifesto then cribs nearly word for word from this item posted to well-known online commentator Alex Jones' Infowars.com site in July. Both that commentary and the ride's manifesto begin with the following passage (substantive insertions to the manifesto are included in brackets):
Long before he was president, [Barry Soetoro, aka] Barack Obama, was already plotting [with others] to overturn the Constitution of the United States. In a chilling 2001 public radio interview, Obama said that the Constitution was, "a charter of negative liberties, full of constraints imposed upon us by our Founding Fathers."
The Ride manifesto goes on to allege congressional attempts between 2003 and 2008 to "change Article 2, Section 1, Clause 5 of the Constitution on eight separate occasions, to make it possible for Barack Obama to meet the eligibility requirements for the office of president." The manifesto's introduction then alleges that "a legal investigation has proven that his documents provided are forgeries, which is a felony offense."