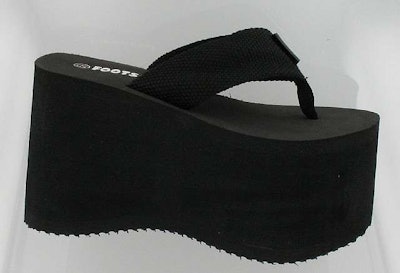 I've learned a lot about life on the road in the past year and a half. We're often asked for tips from newbies, about things they may want to take on the road with them. My first answer to that question is shower shoes. And as difficult as it may be to find size 12 in men's platform shower shoes, I would solidly recommend them for everyone.
It took me a minute to get the showering- in-a -public- place thing down. My first few away from home showers were fraught with horrible experiences. I almost knocked myself out in Tulsa, when I flipped my hair over to put a towel on it and smacked my forehead on the toilet seat. I flooded the entire shower section at the Ohio Turnpike rest area, because my shower shoe was completely blocking the drain and the floors are flat, so the water just ran out all over the place instead of backing up and alerting me that my dumb ass was standing on the one and only way for the water to escape properly. (This, thankfully, is one of those things that only happen once. I'm completely aware of where the drain is now.)
There are a few things I've learned never to be without. Clorox wipes and baby wipes are indispensable, but don't get them mixed up, as Clorox wipes are extremely stingy when you try to remove eye makeup with them. Also, lavender-scented Clorox wipes smell a lot like lavender-scented baby wipes when you're rummaging around in the dark, trying not to wake someone up who's sleeping four inches from you. I might also add that screaming, "Oh God, I'm going to be blind!" is highly frowned upon by aforementioned sleeping person four inches from you.
There's no substitute for experience. I've got a shower bag I could successfully take a shower in a biological hazard with now. I am prepared with my own towels, antiseptic shower spray, flashlight, toilet paper, biohazard bags, .22 semi-automatic pistol and a Leatherman. Kidding! No one carries biohazard bags in their shower grip! You're so silly!
But seriously, don't forget your shower shoes.