The sun came out for the second day of the Heart of America Trucking Show and so did the crowd on Saturday. And plenty of attendees took a break from old friends, beautiful trucks and good music to pack the seminar tent for a range presentations designed to make a professional trucker a little more healthy, wealthy and secure.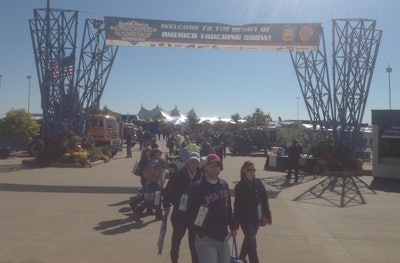 The show, held at the Kansas Speedway, was part of the 40th anniversary celebration of the Owner-Operator Independent Drivers Association, and OOIDA spokeswoman Norita Taylor says small business truckers want to be well informed.
"We strive to provide timely, relevant information that helps our members with their businesses or jobs on a regular basis and, hopefully, the seminars at the show were helpful as well," says Taylor, OOIDA director of public relations. "It was certainly a great opportunity to have some important face time and interpersonal feedback in answering their questions."
And the questions were plentiful in a session devoted to the Affordable Care Act, also known as Obamacare. Rick Welsh of Welsh and Associates, a Kansas City-area health care and insurance consulting business, focused on the facts of the new law, not the politics. And, looked at objectively, he says the health care reform package offers some positives for professional truckers. Notably, the personal plans under ACA are all-inclusive, and individuals can't be denied coverage nor can the rates be raised. A summary of the act from OOIDA is here.
[youtube cXdz9Eu3A88&feature=youtu.be nolink]
Similarly, Pam Perry, a nurse consultant at the Federal Motor Carrier Safety Administration, explained the upcoming national registry of certified medical examiners and impact on DOT physicals. She also took questions on a range of DOT health-related questions.
[youtube HGYUeuipX4w&feature=youtu.be nolink]
Personal security is just as important as good health, so NRA representative Gary Benefield, a personal protection and firearms instructor, talked OOIDA members through the basics of situational awareness, self-defense laws and Second Amendment rights. Benefield, a retired law enforcement officer, also discussed the state-by-state legal considerations for an interstate truck driver carrying a firearm for protection.
[youtube 0uCwifj1Aag&feature=youtu.be nolink]
Of course, OOIDA also emphasizes the importance of political protection, from excessive regulations and taxes, for instance. Professional truck drivers can and should be involved in the legislative process, as Ryan Bowley, who handles government affairs for OOIDA, told members. The key is to be consistent and persistent, but not antagonistic.
[youtube on1eCs8_MI8&feature=youtu.be nolink]
A driver's personal comfort was the topic at the introduction of a new package for customers staying at IdleAir during their 34-Hour HOS Resets. The "Reset Special" includes up to 40 hours of IdleAir Premium Service for a flat fee of $50 plus tax. IdleAir Premium Service includes heat, air conditioning, 120V power, DIRECTV, and basic Internet. Here's IdleAir's Jeff Maurer:
[youtube TAyL7ENRFBY&feature=youtu.be nolink]
And the business side of trucking, Bert Goo of DAT demonstrated Member's Edge, the OOIDA load board. Goo also discussed when and how professional truckers should use load boards to most effective – and most profitable. Essentially, load boards aren't a replacement for good contacts – and contracts – with shippers, and should be used primarily for backhaul planning.
[youtube dxHFhXBQEqU&feature=youtu.be nolink]