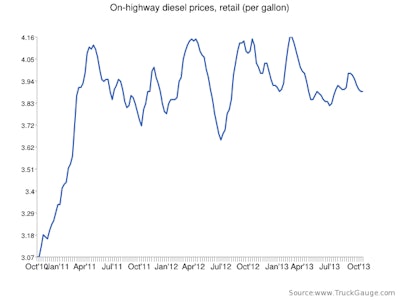 The national average price for a gallon of on-highway diesel dropped 1.6 cents in the week ended Oct. 28 to $3.870, according to the Department of Energy's Energy Information Administration.
That's the lowest national average since the week ended July 15, when the weekly average was $3.867 a gallon.
Moreover, the price of diesel, as reported by the EIA, hasn't risen week to week since the week ended Sept. 2, which saw a big spike spurred by the increased likelihood of U.S. military intervention in the Syrian civil war.
The national average price per the EIA is down 16 cents from the same week in 2012.
Pro Miles' Fuel Surcharge Index, which collects at-pump prices at thousands of truck stops nationwide, reported a 1.5-cent week to week drop and a national average price of $3.813. According to its report, the national average is down 16.4 cents from the same week in 2012.
Prices fell in all regions nationwide, per EIA's data, led by a 2.2-cent fall in the Lower Atlantic region.
California still has the country's most expensive diesel, $4.117 a gallon, while the Gulf Coast region has the nation's cheapest, $3.783.
All regions are well below their average prices from 2012, led by a 33-cent difference in the Rocky Mountain region. The Lower Atlantic region is just 10.3 cents cheaper than the same week last year.
Click here to see more EIA data.