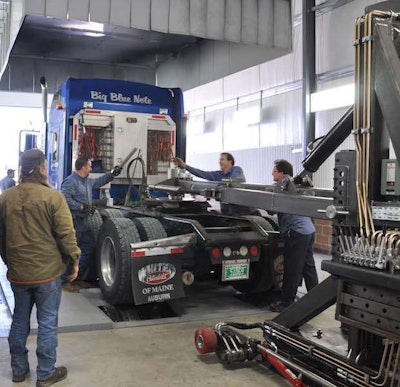 May I recommend to you an alternative to standard dynamometer testing?
Those of you who have not watched chassis dyno operators prepare a truck for testing might not realize that a large chain around the rear differential and 2-inch front tire straps with ratchet binders are all that hold the truck in place during a dyno test.
This binding method, which is the standard in the industry, has some associated problems.
First, there is no weight on the fifth wheel. If the truck produces high horsepower or has bald tires, there will be slippage on the dyno rollers, making accurate readings impossible.
Also, binding the truck with chains is time-consuming, and the differential chain can chip the differential's paint. If the truck has a custom rear bumper that is close to the ground, it may be impossible to put the truck on the dyno.
A good friend of mine, Al Hemerson – a farmer, owner-operator and great thinker from Iowa – came up with our solution: Why not have a floor-mounted hydraulic apparatus that connects to the fifth wheel through an extendable boom?
He made several drawings for us, and I took them to a good friend of mine who is a welder and fabricator and told him what I wanted. That friend is Jon Anderson, another great thinker.
After several months of fabricating, machining and welding, we now have the world's only chassis-binding system of its kind: The Anderson-Hemerson hitch, or as some around the shop call it, The Giraffe. This new chassis dyno binding system hooks into the fifth wheel and can pull the truck up onto the dyno's rollers to the exact spot where you want it. The Giraffe even can pick the back of the truck up off the ground, move it to the right or left and put as much as 100,000 pounds of pressure down on the drive tires.
We have found that 3,000 to 4,500 pounds of downward pressure does a great job simulating the trailer and stabilizing the truck for a perfect dyno run with close to real-world results. Parasitic losses in drive tire alignment, tire tread pattern and wheel bearing losses are observed more accurately with pressure on the fifth wheel.
So if you want to dyno your semi, it can be done in style.
-Bruce Mallinson is the owner of Pittsburgh Power, an engine performance shop in Saxonburg, Pa.