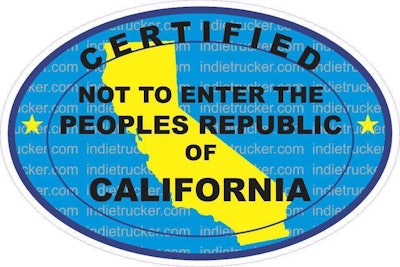 A business group is suing California's Air Resources Board over allegations it did not disclose known defects associated with the Diesel Particulate Filters required for trucks next year.
The Alliance for California Business filed complaint Nov. 11 in Glenn County Superior Court over the mandated DPFs that can cost up of $20,000 per truck. The recently formed non-profit ACB represents carriers and other business owners who want the court to enjoin implementation of portions of CARB's Truck and Bus Regulation.
The DPFs have caused fires and are "not designed for use on short distance travel routes and commonly malfunction as a result," according to ACB's Nov. 11 statement. Truck owners qualify for assistance in purchasing the filters, but relief is not provided for damage that occurs from the devices or for income lost while the truck undergoes repair., ACB stated.
A May 9 case management conference is set for the alliance and CARB before Judge Peter Twede.
This month, the board announced it would postpone enforcement of the filter deadline from Jan. 1 to July 1 for truckers who qualify for the extension. Also, low-use exemptions are available for owners of trucks driven less than 5,000 miles annually. Trucks driven more than an annual 5,000 miles, but still log less than 1,000 miles in California also may meet exemption criteria.
At an Oct. 24 CARB meeting, truckers said they found DPFs to be costly and unreliable. Woodland Mayor Skip Davies said the filters sometimes "plug up."
Recently, 70 truckers attended a recent Woodland meeting, said Davies, who also serves on the Yolo Solano Air Quality Board. The low-use exemption is inadequate relief to cope with the region's growing season, he said.
Truckers found the CARB website difficult to navigate, Davies continued. Also, DPF compliance would be more likely if it were phased in over a five-year period and a loan program existed that was restricted to small fleet owners.