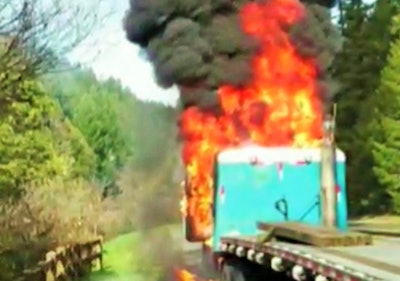 There's another lawsuit filed from the Alliance for California Business that pushes against the California Air Resources Board's emissions regs, specifically alleging that diesel particulate filters are unsafe, having resulted in numerous fires around the state. Filed in November, the complaint purports to have documented two dozen truck and bus fires over the 2014-'15 time period — you can read the legal filing in full via this link. It asks, ultimately, for an "independent and peer-reviewed study to determine if the DPF, as designed and implemented, damages diesel engine systems and creates an increased risk of fires in and around diesel-powered engines. Plaintiffs also seek a temporary moratorium on the DPF requirement until this critical safety study is completed."
This suit follows on a similar one decided in favor of CARB in the Glenn County jurisdiction just last year after years in process. The latest complaint takes the matter to the Superior Court in Sacramento.
Trucker Keith Daniels — his son Jason, who helps run his company, is a named plaintiff in the suit — told the story of his own truck fire, which started during a regen, to Bay Area NBC affiliate KNTV this weekend (video below), and there's more on the case via The Trucker.
Any Dallas Cowboys fans in the audience?
Or Miss. State? Interest fact about Dak Prescott, via the Dallas SportsDay site. Prescott was a rookie this year with the Cowboys NFL franchise. He turned plenty of heads after Tony Romo went down early in the year and Prescott's number was called: Prescott's mother, Peggy Prescott, was manager of the I-220 Travel Plaza in Bossier City, La., due east of Shreveport. During her son's breakout 2013 season with the Miss. State Bulldogs, tragically, she passed away after a battle with cancer. It's certain she'd be proud of her boy after this year's performance — Prescott was named the NFL's Offensive Rookie of the Year by the Associated Press.