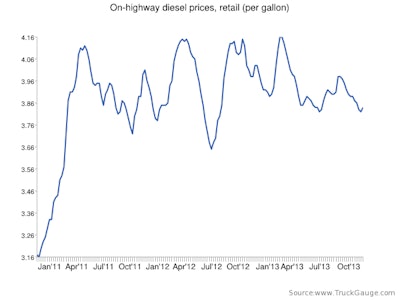 The national average price for a gallon of on-highway diesel rose in the week ended Nov. 25 for the first time since September, climbing 2.2 cents to $3.844, according to the Department of Energy's Energy Information Administration.
The increase ends a 4-week string of decreases and a string of 11 weeks without a price increase, as the price was unchanged a week in September and a week in October. The price of diesel fell 15.2 cents a gallon in those 11 weeks. The most recent string of price increases last only three weeks and occurred in late August and early September.
Despite the increase, the national average price is still down 19 cents from the same week in 2012.
All regions nationally saw price increases, save for the West Coast and West Coast less California regions, which both were unchanged week to week. The largest weekly increase was in the Midwest region, which had a 3.5-cent increase.
California still has the country's most expensive diesel, $4.023 a gallon. New England is not far behind, $4.003. Those are the only two regions with average prices higher than $4.
The Gulf Coast region has the country's cheapest diesel, $3.753 a gallon.
All regions nationally also are still well below their average prices in the same week in 2012.