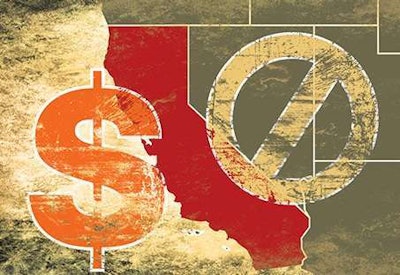 The California Air Resources Board's public meeting Dec. 4 in Sacramento, following a Dec. 3 meeting in Diamond Bar and webcast via calepa.gov, took public comment on the board's own proposed new compliance flexibility options as well as new ideas to introduce additional "paths toward implementation" and compliance, said Todd Sax, assistant chief of CARB's Mobile Source Control Division. At once, he added, "While we're looking at ways to expand incentive funding" as well as flexibility options, " the costs of the rule will be paid for by truckers – it's hard to comply with this rule, we realize."
The challenge, Sax noted, for the board is balancing the needs of the public for clean air, 2014 deadlines set by the Clean Air Act at the federal level for NOx and particulate-matter levels in the air, and the financial hit the regulations are having on fleets large and small in the state and around the nation. Any changes the Board makes to help fleets comply at this stage, Sax noted, "need to be fair and enforceable," likewise "recognizing fleets that have already taken steps to comply."
The discussion was heated at times throughout the four-hour meeting, ranging from emotional to technically bureaucratic, but along the way clarity on certain of CARB's already-proposed amendments was revealed, in addition to the Good Faith Effort to give operators with an intent to upgrade their trucks until July to comply. (We reported on that extension in this story. Follow that link for more.)
Grant funding deadline fast approaching for small fleets and owner-operators
CARB is ready to let go of $180 million in funding for owners of fleets of 1-3 trucks as part of Proposition 1B: the Goods Movement Emission Reduction Program. The deadline for filing an application for funding to assist in replacement of a 2006 or older truck/engine with a new unit is Dec. 12.

Small fleets/owner-ops are being given priority in this go-around.
Basic requirements for eligibility under the Goods Movement funding program are as such:
**75 percent operation within California for the past 2 years
**Move goods as part of a sales transaction
**Commit to at least 50 percent of travel within the four California trade corridors
**Drayage trucks (including dray-off trucks) are not eligible
Delay in retrofit deadlines for trucks operating only in NOx-exempt areas
CARB is proposing to add to already-designated "NOx-exempt" attainment areas (where NOx values in the air are well below federally required levels for 2014, shown in green at right) the areas shown shaded or cross-hatched at right, covering a large portion of the state all told.
For operators around the nation running into and out of these areas in California exclusively, this presents potential new narrow alternatives for compliance. CARB is extending to January 2015 the retrofit DPF requirement for trucks reporting intent to run only in such areas. Trucks will need to be registered with CARB and obtain decals indicating their status, and in order to qualify, trucks will need to have been demonstrably in compliance through the end of 2013.
As noted, to take advantage of this extension, as with all of the others, you must report in the CARB TRUCRS system by January 31, 2013 – find full information about TRUCRS at this page.
The proposed extension into the added areas is taken as CARB evaluates air quality in its different districts to determine what softening, or strengthening, of the regs may be in order in the coming year.
As Joe Rajkovacz of the California Construction Trucking Association points out, also, for in-state or out-of-state truckers operating only in the dark-green shaded areas, the current rule (minus any amendment) "mandates that all fleets must have 33 percent of their fleet in compliance by January 1, 2014, to operate only in a NOx exempt area," he says. "For a one-truck guy, 33 percent rounds down to zero."
Operators with 2006 and older engines running only in the Northern parts of the state or other of the dark green attainment areas on the map, as long as they are registered with CARB to operate exclusively in the NOx-exempt areas, ought to be in compliance through the first day of 2015 with no changes.
As for the proposed added areas, "If someone operates in that vast corridor that US 395, I-15, and I-40 are a big part of" in more southerly parts of California, says Rajkovacz, "they'd have an additional year too with the proposed expanded NOx exempt area that includes 95-plus percent of San Bernardino County."
The minute a truck leaves the NOx-exempt area and enters a non-attainment area, they must be in compliance. "There is a minor exception for taking a truck to a shop for repairs," says Rajkovacz.
Low-use exemption changes, additions
As we've reported via the series of recent podcasts on the subject (find the most relevant one via this link), CARB's low-use vehicle upgrade exemption for trucks operating fewer than 1,000 miles in-state per year will remain available in the new year. Added to the mix, however, is a proposed exception for trucks operating a total of 5,000 or fewer miles, unlikely to apply to a majority of the Overdrive audience.
One of the ideas being floated at both Dec. 3 and 4 public meetings, says Rajkovacz, has been to allow NOx-exempt-area trucks to use the low-use exemption to "travel into non-attainment areas where only the miles traveled in the non-attainment areas are counted toward the overall mileage cap."
CARB investigation of DPF problems
"We hear what you're saying" about reliability problems with both OEM and retrofit diesel particulate filters, Sax said, referencing voluminous commentary from truck owners skeptical of the devices. "We are going to do an investigation looking into the quality of the filters. If you're interested in talking to us to try to get at the root cause of DPF failures," get in touch.
Results of the investigation Sax and company will present to the full board at their April meeting, where official consideration of amendments to the Truck and Bus Rule will also be taken up.
A central hotline to CARB is 866-6-DIESEL, or visit arb.ca.gov/truckstop for online contact information.
Other ideas floated in the Dec. 4 meeting included consideration of household-goods haulers in CARB's niche-specific extension (currently covering only certain vocational applications), among others.
Find a schedule of similar meetings where operators in the area can voice their own ideas below, all times PST.
Thurs., Dec. 5, 10 a.m.-2 p.m.
City of Redding Civic Center Council Chambers
777 Cypress Avenue
Redding, CA 96001
Tues., Dec. 10, 1 p.m.-5 p.m.
Chula Vista Public Library
365 F Street
Chula Vista, CA 91910
Thurs., Dec. 12, 10 a.m.-2 p.m.
San Joaquin Valley Air Pollution Control District
Central Region Office, Governing Board Room
1990 E. Gettysburg Avenue
Fresno, CA 93726
(The public can also attend this last workshop via video conference at the air district's Bakersfield and Modesto offices — 34946 Flyover Court in Bakerfield and 4800 Enterprise Way in Modesto.)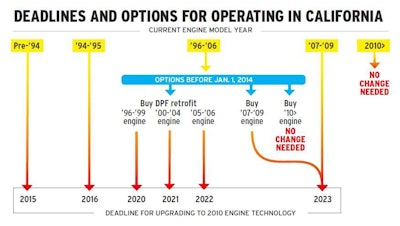 Use our interactive tool to determine baseline requirements for your operation under CARB's Truck and Bus Rule.