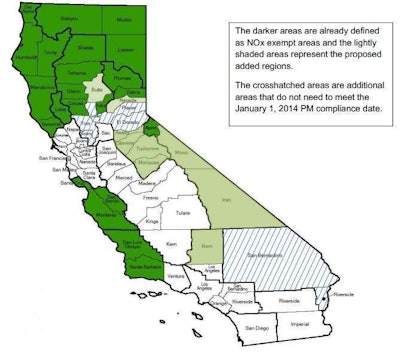 Truck owners have until Friday, Jan. 31, to report to the California Air Resources Board their "good faith" efforts to comply with the state's Truck and Bus Rule emissions regs that require older trucks to be retrofitted with particulate matter filters to operate in compliance.
Those who can show efforts to comply could have the enforcement date delayed to July 1. Truck owners must use the CARB TRUCRS system to report. Click here to learn more about TRUCRS.
Per previous Overdrive reporting on the extension, truck owners must have taken one of the following steps:

Have an agreement with an authorized installer for a particulate matter filter retrofit.
Signed a purchase contract and ordered a replacement truck equipped with a particulate matter filter (engines must be 2007 model or newer)
Approved or denied financing for a retrofit particulate matter filter or for a replacement truck equipped with a particulate matter filter
CARB did propose in December some potential exemptions for operators that would allow truck owners who only run in certain parts of the state or infrequently in and out of the state.
Certain regions in the state are deemed "NOx-exempt," meaning NOx values there are below federally required levels, and owners and operators who run into and out of the NOx-exempt areas would not have to comply with the filter retrofit regs until January 2015, per a CARB proposal made in early December.
However, the proposal will not be finalized until April, so to avoid non-compliance, truck owners must either have their pre-2007 engines retrofitted with a filter or register for the compliance delay.
The Owner-Operator Independent Drivers Association filed a suit against CARB in December, alleging the state's retrofit requirements are unfairly costly, not beneficial and in violation of the commerce clause of the U.S. Constitution. It asked the court to stop CARB from enforcing the retrofit requirement for owners and operators who live outside of California or primarily conduct business outside of the state.
Click here to use Overdrive's interactive tool to determine what action, if any, you would be required to take to operate legally in California in 2014.