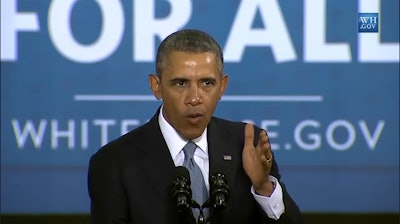 In response to President Barack Obama's direction to the Department of Transportation earlier this week to develop a rule further tightening fuel economy and emissions standards of Class 8 trucks, trucking trade groups and some truck manufacturers have voiced either their concern or their support for the regulatory action.
One concern of the new rules, noted the Owner-Operator Independent Drivers Association, is the potential impact of an increase in the upfront cost of a truck, pointing to numbers from the Environmental Protection Agency that say the 2014-18 standards — Phase 1 — will add about $6,200 to the price of a new truck.
An estimation as to how much the second round of fuel standard restrictions — the ones announced by the president earlier this week —  will add to the price of a new truck has not been released, but, OOIDA says, the new regs "will continue to push the cost of new trucks skyward," a point OOIDA Executive Vice President Todd Spencer says could put the cost of a truck out of reach for owner-operators.
"Each year for the past 10, more and more truckers are squeezed out of the option to buy new equipment because of ever-increasing prices due to government requirements that are long on promises but way short on performance," Spencer said.
Sandeep Kar, a global automotive and transportation researcher for Frost & Sullivan, says though the fuel standards could be a "short-term pain" and will raise the cost of purchasing a truck, the standards will help the trucking industry in the long-term and help the U.S. be more competitive globally. "Trucks featuring better fuel-efficiency and economy will cost higher than the current breed of trucks, but will deliver reduced fuel expenses for fleets thereby reducing life-cycle costs and hence total cost off ownership, while simultaneously reducing freight transportation's carbon footprint."
The American Trucking Associations released a statement saying it supports the goal of tightening fuel use, but says it "presses the Obama administration to proceed cautiously with the setting of new standards."
ATA President and CEO Bill Graves says he hopes the White House will base the new standards on empirical data while taking into account the "economic achievability" of new fuel economy regulations.
"Fuel is one of our industry's largest expenses, so it makes sense that as an industry we would support proposals to use less of it," Graves said. "However, we should make sure that new rules don't conflict with safety or other environmental regulations, nor should they force specific types of technology onto the market before they are fully tested and ready."
As for manufacturers, they've mostly voiced their support for the new regulations.
Cummins, who worked with Peterbilt to produce the "SuperTruck," said it supports the standards as they "deliver environmental benefits and help our customers in the form of increased fuel efficiency and cost savings," said Cummins VP Rich Freeland. He also added that Cummins again hopes to work closely with the White House in crafting the next round of regulations.
The SuperTruck was on display in Maryland at Obama's Feb. 18 speech, and Cummins announced the same day the SuperTruck is able to achieve 10.7 mpg.
Daimler Trucks North America, maker of Freightliner, Western Star and Detroit,  also offered its support for tightened fuel use regulations. The company is "committed to regulatory leadership and [applauds] standards that include total cost of ownership as a primary benefit for our customers," said Sean Waters, DTNA's director of product compliance and regulatory affairs. "Freightliner customers have come to rely on us to keep them in an industry leading position regardless of regulatory requirements."
Navistar, maker of International, also pledged to continue to work with the EPA and the DOT to develop the new regulations.
"Our customers continue to look for every percent of fuel economy improvement and that makes finding new solutions an ongoing priority for us at Navistar," said Denny Mooney, group vice president, Global Product Development, Navistar.