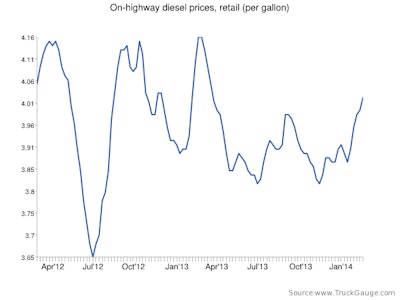 And so ends the most recent — and rather large — upswing in diesel prices seen in late January and all of February, as the national average diesel price fell in the week ended March 3 one-tenth of a cent to $4.016, according to the Department of Energy's Energy Information Administration.
The downward tick brings an end to a five-week string of increases that sent the price of diesel 14.4 cents higher and above the $4 mark for the first time since March of last year.
ProMiles' Fuel Surcharge Index reported this week a three-tenths of a cent drop, brining its reported national average to $3.960 a gallon.
Per the EIA, regional price changes were nearly evenly split between up and down. The Rocky Mountain region led all price increases with a 3.3-cent climb, followed by a 1.5-cent increase in the Lower Atlantic region and a 1-cent spike in California.
The Gulf Coast region led all decreases with a 1.3-cent drop, followed by the Midwest, which had a six-tenths of a cent fall.
The New England region still has the country's most expensive diesel, $4.389, followed by the Central Atlantic's $4.354.
The Gulf Coast still has the U.S.' cheapest diesel, $3.793, followed by the West Coast's $3.943.