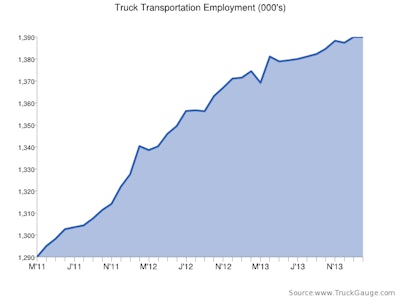 The for-hire trucking industry did not add or lose any payroll jobs in February on a seasonally adjusted basis, according to the monthly employment report released March 7 by the Department of Labor's Bureau of Labor Statistics, who also downwardly revised January's preliminary figure of 3,200 added jobs to 2,600 added jobs in the first month of the year.
The U.S. economy as a whole added 175,000 non-farm jobs in February, BLS reports, though national unemployment rate rose 0.1 percent to 6.7 percent. Last month's rate of 6.6 percent was the lowest in five years.
Economists weren't sure what the employment data would hold in February, given the uncertainties about the weather and other factors, but February's overall gains were just shy of the last 12 months' average of 189,000 added jobs per month.
Employment also rose in construction (15,000 jobs), manufacturing (6,000 jobs), wholesale trade (14,800 jobs), mining (1,000 jobs), government (13,000 jobs) and utilities (100 jobs). Employment dropped in retail trade (-4,100 jobs).
For-hire trucking totaled 1.3895 million payroll jobs in February, up 15,400 jobs (1.1 percent) from February 2013 and up 155,500 jobs (12.6 percent) from March 2010′s bottom. However, trucking employment remains 63,900 jobs (4.3 percent) below January 2007′s peak.
The BLS numbers for trucking reflect all payroll employment in for-hire trucking, but they don't include trucking-related jobs in other industries, such as a truck driver for a private fleet. Nor do the numbers reflect the total amount of hiring since they only reflect the number of employees paid during a specified payroll period during the month.