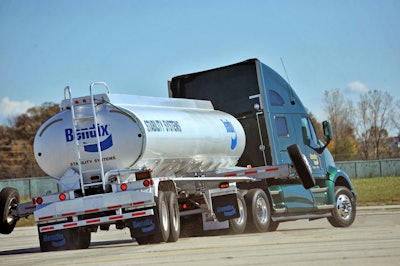 At last year's Mid-America Trucking Show, Bendix made a bold prediction; that the company would have 300,000 trucks on the road using the company's Electronic Stability Program (ESP) collision and stability system.
At the company's breakfast briefing held at this year's show in Louisville, Ky. Wednesday, Fred Andersky, Bendix's director of government affairs, delivered an update.
"It took six full years to get to 100,000," he says of the benchmark of EPS systems in the marketplace, "but half that time to triple that number."
Bendix closed the door on 2013 hitting their 300,000 goal and set another goal for its march to 400,000.
"These systems are being very well accepted and I would expect us to ht 400,000 by the middle of next year," says Joe McAleese, Bendix President and CEO.
Last year marked the fourth consecutive year of strong ESP unit sales for Bendix, which was the first North American brake manufacturer to make full-stability solutions widely available for the commercial vehicle market. The company introduced Bendix ESP in early 2005.
Bendix ESP is standard on Mack and Volvo highway tractors, as well as the majority of Peterbilt Motor Company's Class 8 trucks and tractors, including the 579. Other manufacturers offering the Bendix ESP system include International and Kenworth.